We're A BBC Website Of The Day!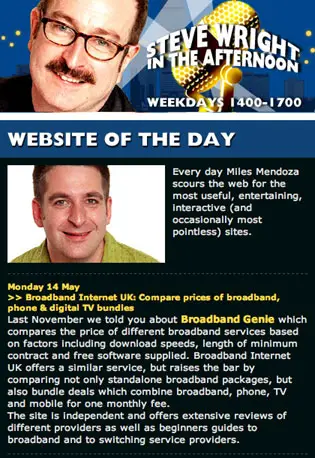 We are delighted to announce that our website has been selected as BBC Radio 2's Website Of The Day by their resident web guru Miles Mendoza on Steve Wright's Radio 2 afternoon show.
You can read Miles' review of our site to the right.
You can also go to Miles Mendoza's own website which is well worth a look.
Thanks Miles for the review and thanks also to Steve and the team for a great show. Keep up the good work.
You can listen to Steve Wright in the afternoon on BBC Radio 2 from 2pm to 5pm Monday to Friday.
BBC Radio 2 is available online on the BBCiPlayer, on digital TV, or on 88-91FM.
Make sure you tune in to the BIG show!
Compare broadband deals
Provider reviews