Claim A £100 BT Reward Card With BT Broadband Deals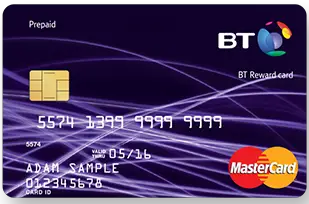 New customers switching to BT can claim a FREE BT Reward Card up to the value of £100 when they order a BT Fibre package online at the bt.com/rewardcards website by the 9th of February 2023.
The BT Reward Cards are supplied by BT with the money pre-loaded on to the card and can be used either online or anywhere across the world where there's a MasterCard logo.
BT Fibre Broadband deals start from just £28.99 a month for average 36Mbps download speeds. Norton Security is included, while a £29.99 set up fee (activation, plus P&P) applies.
Prices for the BT Fibre 2 package start from £29.99 a month for unlimited average fibre optic download speeds of 67Mbps. The £20 fibre activation fee, together with a £9.99 P&P fee to cover delivery of the Hub wireless router is not currently required.
The new BT Smart Hub is included together with Norton Security.
In all instances a 24 month contract applies, while extras such as 1000GB BT Cloud storage and online security with BT Web Protect and Parental Controls are available for no additional cost.
The BT Sport pack featuring live Champions League and Premiership football, is available for £17 a month on mobile and tablet devices with the BT Sport app, while laptops and desktops can use the BT Sport online player.
The FREE £100 BT Reward Card will be posted by BT once a new customer's Broadband has been installed and they have completed the necessary card claim process. Please see our handy guide to claiming your BT Reward Card for full details.
What Next?
Readers can find out more on the FREE £100 BT Reward Card and order a BT Broadband or BT Fibre package online at the bt.com/rewardcards website.