Best Broadband Deals 2019
TalkTalk Ultrafast Broadband Up To 300Mb Now Available In Selected Areas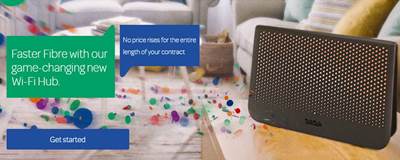 Following the launch of its BIG Broadband SALE at talktalk.co.uk last week where Fibre prices were reduced to £24 a month, TalkTalk has announced that its two ultrafast broadband packages, with speeds up to 300Mb, are now available to new and existing customers in 11 areas across the country.
The two packages called Faster 150 Fibre and Faster 300 Fibre use the latest G.fast technology from Openreach which can transfer much higher broadband speeds over shorter distances in areas where Fibre to the Cabinet exists. Prices start from £28 a month for either an 18 or 24 month contract.
The TalkTalk Faster 150 Fibre Package – £28 A Month

Customers signing up to this package will be able to stream HD movies across multiple screens and host online games with no lag with the up to 150Mb download speeds, which are up to 15 times faster than standard broadband speeds.
Entire films can be downloaded in seconds, while upstream speeds up 30Mb enable large files to be uploaded in seconds.
The TalkTalk Faster 300 Fibre Package – £50 A Month

This package, with speeds up to 30 times faster than standard broadband, is ideal for heavy users of 4K Ultra HD and online gaming.
Those people who upload large files regularly to the cloud will also benefit from the impressive upstream speeds that are up to 50Mb.
Both of these TalkTalk Ultrafast packages include phone line rental, a super router, a totally unlimited usage allowance, security & parental controls and call privacy features. The monthly price is fixed for the duration of the contract, with a guarantee of no mid-contract price rises. Flexible TalkTalk TV and landline call plans can also be added.
Which Area Is TalkTalk Ultrafast Broadband Available In?

We understand TalkTalk Ultrafast is available in the following locations: Bath, Brighton & Hove, Cambridge, Cheltenham, Derby, Edinburgh, Gillingham, High Wycombe, Luton, St Austell & Swansea.
TalkTalk also has plans to extend its Ultrafast offering to new areas as the Openreach G.fast network rolls out across the UK.
What Next?

Find out more on TalkTalk's Ultrafast Broadband packages and whether they are available on your street at the talktalk.co.uk website. Alternatively, speak with the TalkTalk sales team on 0800 049 7865.