Best Broadband Deals 2021
TalkTalk Black Friday Deals 2020 – 3 Months FREE On All Fibre Packages + FREE Amazon Prime Video With TalkTalk TV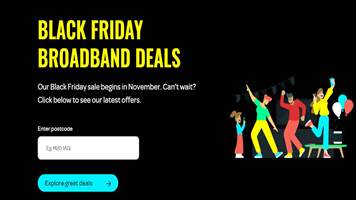 The TalkTalk Black Friday Deals 2020 have arrived with a 3 months FREE offer on all fibre packages (including fibre & TV) now available at the talktalk.co.uk/blackfriday website until midnight on the 2nd of December 2020.
Other Black Friday highlights include no broadband setup fees saving up to £50, plus 12 months FREE Amazon Prime Video worth £79 with TalkTalk TV. Prices start from just £27.50 a month for TalkTalk's Fibre Broadband, TV and phone package – with the first 3 months FREE.
Take a look at these three TalkTalk Black Friday deals now available:
1. TalkTalk Fibre 35 Broadband – £23.50 A Month (With The First 3 Months FREE)
Live in a busy internet household where everyone is streaming Netflix, online gaming & Facetiming friends? Then you need TalkTalk's Fibre 35 package which is now available at just £23.50 a month, with the first 3 months free. This is currently the UK's lowest fixed price fibre broadband.
Here's 6 top key features of this package:
1. Average 35Mbps download speeds, 4 times faster than standard broadband
2. No internet usage caps to worry about
3. No setup fee saving up to £50
4. No mid-contract price rises
5. Powerful Wi-Fi Hub for optimum performance around the home
6. Add the TalkTalk TV package for an extra £4 a month. Enjoy 80 Freeview channels, plus Catch-up TV. Customers can also pay for premium channels like Sky Sports on rolling one month contracts, or rent one of the latest blockbuster films
2. Need More Speed? Go For TalkTalk Fibre 65 Broadband – Just £26 A Month (With The First 3 Months FREE)
Enjoy superfast, unlimited average fibre download speeds of 65Mbps for only £2.50 a month more than the 35Mbps speed package above. That's just £26 a month for the duration of the 24 month contract – with the first 3 months FREE. This package comes with all the key features as described in the Fibre 35 package above, but with the 65Mbps speeds.
3. Go Ultrafast With TalkTalk Fibre 150 Broadband – Now Just £32 A Month (With The First 3 Months FREE)
TalkTalk Fibre 150 utilises the latest G.fast technology from Openreach which can transfer much higher broadband speeds over shorter distances in areas where Fibre to the Cabinet exists. Enjoy streaming HD movies across multiple screens and host online games with no lag with the average 145Mbps download speeds. The only catch….Fibre 150 is only available in around 15 towns & cities across the UK, so you'll need to check availability at the TalkTalk website.
The Legal Stuff
These TalkTalk Black Friday deals are available to new TalkTalk customers who order online by the 2nd of December 2020.
Readers can find out further information on these TalkTalk Black Friday Deals and order online at the talktalk.co.uk/blackfriday website.