Best Broadband Deals 2020
BT Black Friday SALE 2019 – BT Black Friday Deals On Broadband, TV & Mobile – Save Up To £168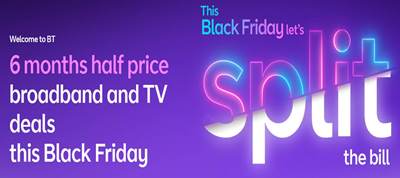 The BT Black Friday SALE 2019 is now on with savings of up to £168 on BT Fibre and 6 months FREE Amazon Prime Video with BT TV. BT's lowest ever prices are available on totally unlimited BT Superfast Fibre at the bt.com/blackfriday website. There's also huge price reductions on BT TV packages and BT Mobile.
Available until midnight on the 7th of December 2019, the BT Black Friday Broadband deals 2019 include BT phone line rental and start from just £24.99 a month. A FREE BT Reward card up to the value of £120 is also available for customers to spend on what they like.
Take a look at three of the BT Black Friday Deals 2019 we've featured below:
1. Unlimited BT Superfast Fibre Essential & Phone Line Rental – £24.99p/m (Save £120)
Here's the lowest priced BT Fibre Broadband deal on offer. Note, there's plenty more BT Superfast Fibre Black Friday deals available at bt.com/blackfriday:
Average fibre optic broadband speeds of 36Mb
Totally unlimited downloads with no speed reductions at peak times
BT Home Hub 5 wireless router for the most reliable wireless signal
Stay connected on the go with unlimited Wi-Fi access at more than 5 million BT Wi-Fi hotspots
Useful back-up and storage with 200GB's of BT Cloud
Stay safe online with BT Parental Controls
Pay as you go phone calls to UK landlines included
Stay Fast Guarantee – get the speeds BT promise you, or get £20 back
24 month contract applies
2. BT TV, BT Sport & Unlimited BT Superfast Fibre For £38.99p/m (Usually £45.99p/m)
Save with this all-in BT TV, BT Sport, BT Superfast Fibre, phone line rental & calls Black Friday deal. Here's what you get:
BT TV Starter & BT Sport:
Up to 80 Freeview TV channels (15 in HD) showing all the usual BBC and ITV favourites, plus lots more
FREE YouView TV box with pause and rewind live TV functionality
7-day Catch-up TV with the BBCiPlayer, ITV Hub, All4 and Demand5
FREE BT Sport Pack showing all Champions League and Europa League football matches live
Add flexible one-month bolt-on packs like Kids TV, Sky Cinema, Sky Sports, Netflix and Music
Rent the latest movies on the BT TV Store
6 months FREE Amazon Prime Video
Unlimited BT Superfast Fibre & Calls:
Super-fast average download speeds of 50Mb
Totally unlimited usage every month
BT smart hub wireless router
BT Cloud online storage and back-up up to 200GB
Pay as you go phone calls to UK landlines
BT Parental Controls to filter the website you want/don't want to see
No fibre activation fee to pay – saving £50
3. BT Mobile Black Friday Deals 2019
Enjoy savings of up to £120 and extra data with the BT Mobile Black Friday deals for existing BT Broadband customers. Looking for SIM only? Get 8GB's of data with unlimited minutes and texts for only £12 a month, 20GB's for £15 a month or 25GB's for £20 a month. A FREE JBL Soundbar (perfect for adding surround sound to your TV or streaming music via Bluetooth) worth £149 is also available. Find out more at the BT SIM Only Black Friday website.
Alternatively, if you're looking for a new phone, take advantage of the special offer on handsets like the iPhone 6s (£19p/m), iPhone 7 (£21p/m), iPhone 8 (£26p/m), iPhone XR (£39p/m) and the Samsung A40 (£15p/m). With FREE BT Reward cards up to £80 available, take a look at the BT Mobile Black Friday website now. Offers end the 7th of December 2019.
Legal Stuff
All BT Broadband & BT Superfast Fibre deals require BT phone line rental which is now included with the broadband price as mentioned above
Readers can find out more on the BT Black Friday Sale 2019 and order online at the bt.com/blackfriday website.