Best Broadband Deals 2021
BT Infinity Broadband Coverage Map Updated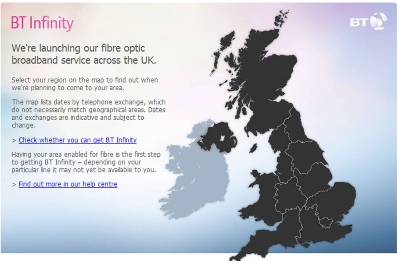 LAST UPDATED 19th February 2021 – BT has unveiled an updated BT Infinity Broadband coverage map that details when BT's new super-fast fibre optic broadband service will be coming to regions across the UK.
Readers can check when BT Infinity Broadband will be coming to their area by visiting the bt.com/infinity website and selecting their region.
The coverage map lists BT Infinity launch dates by telephone exchange, which do not necessarily match geographical areas, but will give a good indication.
The release of the BT Infinity Broadband coverage map coincides with BT's launch of a multi-channel marketing campaign to promote BT's new Smarter Broadband packages, which includes webisode animations, social media activity and a bus tour around the UK.
BT Infinity 1
In the current BT SALE, BT Fibre Broadband with BT phone line rental included, is just £27.99 a month.
This is for the BT Infinity 1 package which provides average 50Mbps downstream speeds, together with unlimited monthly downloads, the new BT Smart Hub and BT Parental Controls for online safety. Pay as you go calls to UK landlines are also included. Note, this offer, which includes no activation fee, ends on the 4th of March 2021.
BT Infinity 2
BT Infinity 2 offers average downstream speeds of 67Mbps, which is eight times faster than the UK average broadband speed.
This totally unlimited package, which costs from just £29.99 a month (including BT phone line rental), also offers the UK's fastest upstream speeds.
Pay as you go calls to UK landlines are included in the BT Infinity 2 package, as is the BT Home Hub, Advanced Security and FREE WiFi minutes.
FREE activation is provided for both BT Infinity 1 and BT Infinity 2, while a £9.99 upfront fee for delivery of the smart hub wireless router applies.
Add BT TV
The BT TV Entertainment package is available from an extra £12 a month and includes the BT 4K recordable TV box, Freeview and the AMC channel as standard, plus the NOW TV Entertainment Pass with 20 premium TV channels like Sky Atlantic and Sky One. Over 300 on demand Box Sets from NOW TV are also available.
Add A BT Mobile SIM Only Plan
Customers can also choose to add one of BT's new 4G SIM only mobile plans to their monthly subscription, with prices starting from just an extra £7 a month for 2GB of data, unlimited BT Wi-Fi, unlimited call minutes and unlimited texts. Great mobile savings can also be made for all family members and friends with the new BT Family SIM plan.
Over 27.4 million UK homes and businesses have access to BT Infinity enabled telephone exchanges as at February 2021.
Readers can enter their postcode on the broadband comparison page of this website to check whether they can receive BT Infinity Broadband and compare fibre optic packages from other providers.