Best Broadband Deals 2022
BT Full Fibre Broadband Coverage Map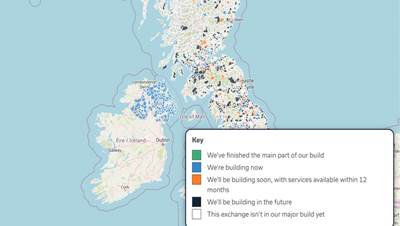 LAST UPDATED 18th November 2022 – BT (Openreach) has unveiled an updated BT Full Fibre coverage map that details when BT's new gigabit capable fibre to the premise service will be coming to areas across the UK in 2022 and beyond.
Readers can check when BT Full Fibre (also known as BT FTTP) will be coming to their area by visiting the Openreach website and selecting their area from the drop down list. They can also use the BT Full Fibre checker which is particularly useful & informative.
What Does The BT Fibre Map Show?
The interactive coverage map currently shows Openreach's FTTP plans for their Fibre First Towns, Cities & Boroughs and the Rural Market Towns & Villages Build Programme. Users will be able to see areas where the full fibre build is complete, in progress, due to start in the next 3 months and in plan between now & 2024. The map does not indicate full fibre deployment related to other programmes such as BDUK, new sites, other smaller scale programmes or infill.
How Many Homes Can Currently Get BT Full Fibre?
As at November 2022, 8.8 million UK homes can access BT Full Fibre services with Black Friday prices starting from just £17.99 a month for BT Full Fibre 100Mbps speeds. Areas covered include parts of Birmingham, Bristol, Edinburgh, Leeds, Liverpool, Swansea & Salisbury to name but a few. A new target of nationwide 1Gbps broadband by the year 2030 has recently been set as part of a £15bn investment programme. Openreach is hiring more than 2,500 new engineers over the next year in a bid to achieve this.
BT Full Fibre 500
In the BT Black Friday sale BT Full Fibre 500 is priced from £22.99 a month (that's HALF PRICE for 6 months). This package provides average 500Mbps downstream speeds, together with the new BT Smart Hub, Norton Security and BT Parental Controls for online safety. No landline phone service is included, but this can be added during sign-up if required.
BT Full Fibre 900
BT Full Fibre 900 offers average downstream speeds of 900Mbps, which is around thirteen times faster than the UK average broadband speed.
This totally unlimited package, which costs from £27.99 a month in the BT Black Friday sale, also offers 110Mbps average upstream speeds.
The latest BT Smart Hub, Norton Security and Speed Guarantee are included in the BT Full Fibre 900 package.
The usual £20 activation fee for any BT Full Fibre package, together with the £9.99 fee for the delivery (P&P) of the smart hub wireless router. have been waived in the BT Black Friday sale. A £50 BT Reward Card to go shopping with is available with all BT Full Fibre packages – and is just like having £50 cash to spend.
Add BT TV Including Netflix For £9 A Month
The BT TV Entertainment package is available for an extra £9 a month (that's HALF PRICE for 6 months). This package includes the BT 4K recordable TV box, Freeview and the AMC channel as standard, plus the NOW Entertainment Membership with 20 premium TV channels like Sky Atlantic and Sky One. Over 300 on demand Box Sets from NOW are also available, while Netflix has recently been added.
Add A BT Mobile SIM Only Plan
Customers can also choose to add one of BT's 4G/5G SIM only mobile plans to their monthly subscription, with prices starting from just an extra £8 a month for 4GB's of data, unlimited BT Wi-Fi, unlimited call minutes and unlimited texts. Great mobile savings can also be made for all family members and friends with the BT Family SIM plan.
What Next?
Readers are advised to use the BT Full Fibre checker to find out if BT's gigabit-capable speeds are available where they live & then sign up online.