What Is BT Sport Ultra HD?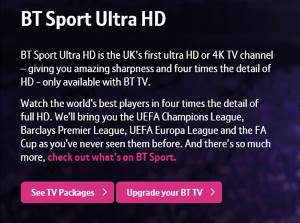 BT Sport Ultra HD is the first 4K/Ultra HD TV channel in the UK. Providing picture detail up to four times that of full HD, the channel broadcasts one game per week in Ultra HD. These matches are hand-picked by BT and feature live action from either the Barclays Premier League, the UEFA Champions League, the FA Cup, or the Aviva Premiership rugby. The BT Sport Ultra HD channel is currently only available with BT TV.
What Is Ultra HD / 4K?
Ultra HD or 4K as it is also known, is the latest TV technology standard that increases the resolution of TV pictures to a huge 3840x2160 pixels.
This is four times the detail of HD programmes on an HD TV which typically use 1920x1080 pixels and up to eight times that of standard definition (SD) TV.
What Are The Benefits Of Ultra HD /4K TV?
You can enjoy breath-taking levels of picture detail with Ultra HD and sharper images with live content typically being delivered at 50 frames per second, which is perfect for fast moving sports like football and motor racing as there is less motion blur when the camera pans around.
There is also richer and deeper colour with 10 bit sampling of brightness and colour compared to the current 8 bit for HD.
Such a leap in TV picture quality means you will be able to see amazing detail, including for example, fine lines on leaves in nature programmes.
How Do I Get The BT Sport Ultra HD Channel?
You will need the following:
An ultra HD or 4K TV which are available from manufacturers like Samsung, LG, Panasonic and Sony
BT Superfast Fibre Broadband
The BT TV Max package
A BT YouView Ultra HD set-top box, which is included in the BT TV Max package
What's In The BT TV Max Package?
In addition to the 1TB BT Ultra HD set-top box and the BT Sport Ultra HD channel, there are 50 premium TV channels to enjoy like Discovery HD and Comedy Central, together with over 80 Freeview channels. Users can pause, rewind and record up to 600 hours of TV and use BT TV Everywhere to watch TV on the go.
What Next?
Already have BT Broadband? Add BT TV here
Already have BT TV? Upgrade your BT TV here
Switching to BT? Order a BT Broadband and TV package here