Best Broadband Deals 2022
BT Infinity Deals With FREE £160 BT Virtual Reward Card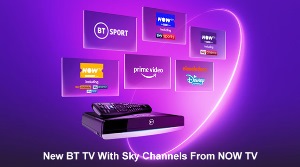 Unlimited BT Infinity 2 (BT Fibre 2), BT's superfast fibre optic broadband service, is now available for a price of just £32.99 a month. There's also a FREE BT Virtual Reward card up to the value of £160 included for orders placed online at the bt.com/infinitydeals website by the 27th of January 2022.
The BT Infinity deals also include 1,000GB's of FREE BT Cloud storage, while BT's mobile offering, including its best value 4G SIM only plan, can be added for an extra £6 per month.
The BT Infinity 2 package delivers fibre optic broadband speeds averaging 67Mbps together with an unlimited monthly download usage allowance.
Impressive upload speeds up to 15Mbps are available while the new BT Smart Hub wireless router is included alongside generous online storage (1,000GB) and advanced security.
The deal does not include a landline phone service, while access to the BT Sport app and online player is available for an extra £15 a month.
A one-off £9.99 fee for delivery of the BT Smart Hub wireless router is not currently required, while the fibre activation fee is waived.
Approximately 28 million homes in the UK now have access to the BT Infinity network as at January 2022.
What Next?
Interested readers can find out further information on the new BT Infinity deals and order online at the bt.com/infinitydeals website.