The BT SALE – Online Exclusive For New BT Infinity Joiners + FREE £125 BT Reward Card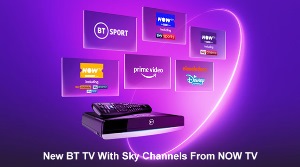 The BT SALE is now on at bt.com/sale with an online exclusive offer for new joiners taking the Unlimited BT Infinity 1 package. There's also a FREE BT Reward Card with up to £125 to spend on it as you wish. The sale ends at midnight on the 27th of November 2017.
New customers ordering BT Broadband or BT Infinity online can also add BT's Starter TV package with BT Sport for no additional monthly subscription. 42 live Premier League matches are being broadcast this season, together with all the FA Cup action, all 352 live Champions League and Europa League fixtures, plus live Ashes cricket.
Take a look below at the BT Broadband, BT Infinity and BT TV packages that feature in the BT SALE for new joiners. BT Mobile SIM only plans can be added from just £7 extra a month.
1. Unlimited BT Broadband + Line Rental – £23.99 A Month
Unbeatable for web browsing as measured by Ofcom, BT's copper Broadband package with BT phone line rental is now available for a combined price of £23.99 a month for the length of the 18 month contract. This package provides speeds up to 17Mbps together with unlimited downloads and 200GB's of BT Cloud online storage. Weekend UK landline calls are included, which can be topped up with an evening & weekends calls bolt on for an extra £3.80 a month. A one-off £9.99 fee applies for router delivery.
2. Unlimited BT Infinity 1 + Line Rental – £29.99 A Month
With BT Infinity 1 fibre optic broadband you can enjoy super-fast download speeds up to 52Mbps together with BT phone line rental for a combined price of just £29.99 a month for the duration of the 18 month contract. A one-off £9.99 fee applies for delivery of the BT Smart Hub router, while the £50 activation fee is currently waived. BT also promise never to throttle (slow down) your broadband speed during peak times.
This is one of BT's lowest ever prices for its combined unlimited fibre optic broadband and line rental package. The package includes an unlimited monthly download usage allowance, 200GB BT Cloud storage, weekend calls to UK landlines (top up to evening & weekend calls for an extra £3.80p/m) and the new BT Smart Hub.
3. BT Infinity 1 + Line Rental + TV Starter + BT Sport – £29.99 A Month
With the unlimited BT Infinity 1 package above included, this bundle also features the BT TV Starter package. Offering pause and rewind live TV with the BT YouView set top box, there's over 100 Freeview channels to enjoy.
Customers can watch the BBCiPlayer, ITV Player, All4 & Demand 5 on their own TV, while having on demand access to over 10,000 TV programmes, music videos, films, kids entertainment and sport. An additional £5 a month is required for each on-demand pack.
BT Sport on BT TV is also included providing live and exclusive coverage of all the UEFA Champions League and Europa League matches, plus 42 Premier League fixtures and live Ashes cricket.
Each of the deals outlined above include BT's latest Smart Hub wireless router which offers the UK's most reliable wireless signal compared to other broadband providers.
There's also free BT Cloud storage up to 200GB, plus free unlimited Wi-Fi access at over 5 million BT Wi-Fi hotspots across the UK (the largest free Wi-Fi network in the world).
As mentioned earlier, BT phone line rental is now included within the package price, rather than being split out separately.
New customers needing a new phone line to be installed or re-connected in order to secure any of these deals can take advantage of BT's free connection incentive which provides savings of around £128.
Interested readers can find out more and order online at the bt.com/sale website.