The BT November SALE – Superfast BT Fibre Speeds FREE For 3 Months + No Upfront Costs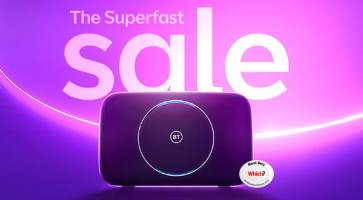 The BT November SALE is on at bt.com/sale, with prices for BT's superfast Fibre 1 50Mbps speeds starting from just £32.99 a month – with the first 3 months FREE. There's also no P&P delivery fees or other upfront costs to pay for. New customers ordering BT Fibre Broadband will also benefit from unrivalled security, a personalised speed guarantee, plus BT's latest Smart Hub 2 for a powerful Wi-Fi connection. A BT Reward Card, with up to £50 cash to spend on it, is also included.
BT's Entertainment TV package can also be added to any BT Fibre plan for just £20 a month. This package includes NOW Entertainment with top Sky channels like Sky Atlantic and Sky One, plus Netflix, AMC and all free to air channels.
Take a look below at some of the BT Fibre & BT TV packages that feature in the BT November SALE for new joiners. 
1. BT Fibre 1 – £32.99 A Month With The First 3 Months FREE 
With BT Fibre 1 you can enjoy average download speeds of 50Mbps for a price of just £32.99 a month. The usual £22 fibre activation fee, together with the £9.99 charge to cover postage and packing (P&P) of the BT Smart Hub wireless router does not apply. BT promise never to throttle (slow down) your broadband speed during peak times.
This is one of BT's lowest prices for its Fibre 1 package. Additional features include BT's powerful Smart Hub, Norton security, plus a personal speed guarantee or money back. No landline phone service is included, but can be added if required. For example, top up to 700 anytime minutes a month for an extra £7 per month.
Looking For Faster BT Broadband Speeds? 
No problem. In the BT November sale, BT Full Fibre 150Mbps is priced at £35.99 a month. BT Full Fibre 500Mbps is £44.99 per month, while BT Full Fibre 900Mbps is £49.99 a month. All these packages are FREE for the first 3 months and include a £50 BT Reward Card to go shopping with. BT Full Fibre is being rolled out across the UK and is currently available to around 12 million UK homes (check your area with the BT Full Fibre Checker here). BT TV's Sport package including all TNT Sports and Eurosport channels, plus Discovery+, can be added from just £1 a month.   
2. BT Fibre 1+ Sport TV (TNT Sports) – £1 A Month For 3 Months, £53.99p/m After
With the BT Fibre 1 package included with average 50Mbps speeds, this bundle also features Sport. Offering pause, record and rewind live TV with the BT 4K set top box, there's over 80 Freeview channels to enjoy (15 in HD).
Customers can watch the BBCiPlayer, ITV Hub, All4 & My5 on their own TV, while the Sport package includes all the action from TNT Sports and Eurosport – so that's live and exclusive coverage of all the UEFA Champions League and Europa League matches, plus 55 Premier League fixtures, Premiership rugby and much more. AMC and the Discovery+ channel can also be enjoyed.
The usual one-off £30 TV activation fee is not required, while the £9.99 P&P fee for delivery is waived.
Each of the deals outlined above include BT's latest Smart Hub wireless router which offers the UK's most reliable wireless signal compared to other broadband providers.
There's also free BT Cloud storage up to 1000GB, plus free unlimited Wi-Fi access at over 5 million BT Wi-Fi hotspots across the UK (the largest free Wi-Fi network in the world).
As mentioned earlier, no landline phone service is included, but this can be added when you sign up online.
New customers needing a new phone line to be installed or re-connected in order to secure any of these deals can take advantage of BT's free connection incentive which provides savings of around £128.
Readers can find out more on the BT November sale and order online at the bt.com/sale website.