How Can I Watch BT Sport With Plusnet?
by Steve Tattersall, last updated 05 January 2023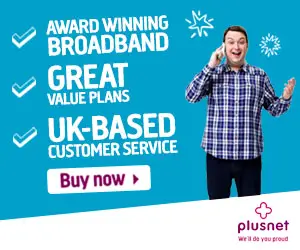 BT Sport Lite and the full BT Sport Pack with all Champions League football coverage, can be enjoyed by Plusnet Broadband customers either on YouView TV from Plusnet, via the BT Sport app from Plusnet or via Sky TV.
What Do I Need To Watch BT Sport On YouView TV From Plusnet?
YouView TV from Plusnet packages are available to existing Plusnet Unlimited Fibre Broadband customers who have a Plusnet home phone plan.
If you are an existing Plusnet ADSL Copper Broadband customer, you will need to upgrade to an Unlimited Plusnet Fibre Broadband package.
If you are currently not a Plusnet customer, you can switch to the £21.99 a month Plusnet Unlimited Fibre Broadband package which includes Plusnet phone line rental.
What Does YouView TV From Plusnet Offer?
YouView TV from Plusnet puts you in control of your TV. With seven day scroll back, you can literally scroll back your TV guide and watch the programmes you have missed. Over 70 Freeview channels are available to watch, pause, rewind and record.
Also included as standard is BT Sport Lite (with 52 live Premier League games), and 20 premium TV Entertainment channels like the Discovery Channel, Eurosport, GOLD, National Geographic and the History Channel.
There is also access to on demand players like the BBC iPlayer, the ITV Hub, All 4, My5, Netflix and Amazon Prime Video.
YouView TV from Plusnet does not currently support multiroom access.
How Much Does YouView TV From Plusnet Cost?
This depends on whether you take the YouView box or the YouView+ box. Both are £5 a month, however, the YouView+ box has a £57.99 upfront fee, while the standard YouView box is £6.99. In terms of functionality, the main difference between the two boxes is that the YouView+ box can also record up to 150 hours of HD, or 300 hours of SD, while the YouView box can pause and rewind, but not record.
How Much Does It Cost To Watch The Full BT Sport Pack On YouView TV From Plusnet?
The full BT Sport Channel Pack which includes all the live UEFA Champions League and Europa League action, plus the 52 Premier League games, costs an extra £10 a month. You can also opt to pay an extra £3 a month to take the HD Channel Pack and watch all the action in HD.
These Channel Packs are available on a rolling monthly contract, with a one month minimum term, which is handy.
Can I Watch BT Sport With Plusnet Using An App Or Online Player?
Yes, the BT Sport app and online player from Plusnet is available to Plusnet Broadband/Fibre customers for £10 a month. The app can be enjoyed on your tablet, Xbox, PlayStation, Apple TV and Samsung TV. It can also be cast to your TV if you've got a Google Chromecast stick or Apple TV.
How Much Does It Cost To Watch The BT Sport Pack Via Sky TV?
Plusnet Broadband customers with Sky TV will need to pay £9.99 a month to watch the full BT Sport Pack on Sky TV. In HD it is £12.49 a month.
What Next?
Already have Plusnet Unlimited Fibre Broadband? Add BT Sport From Plusnet here
Already have Plusnet ADSL Copper Broadband? Upgrade to Plusnet Unlimited Fibre Broadband here
Considering Switching to Plusnet? Find out more on Plusnet Unlimited Fibre Broadband packages here or compare packages below.
Compare Plusnet Broadband Packages
Provider
Product Details
Average Speed*
Download Limit
Contract Period
Costs
More Info


Average speed*: 36Mb,
Download limit: Unlimited,
£0.00 setup,
1st year cost £263.88,
£21.99* per month

Plusnet Unlimited Fibre Broadband


*For 18 months. Includes line rental. Annual price increase applies

36Mb
Unlimited
18 months
Monthly cost £21.99* 1st year cost: £263.88
£0.00 setup
Online Security & Parental Controls Included



Find out more at Plusnet



No Activation Fee To Pay


Average speed*: 74Mb,
Download limit: Unlimited,
£0 setup,
1st year cost £287.88,
£23.99*

Plusnet Unlimited Full Fibre 74 Broadband


* For 24 months. No voice service. No line rental to pay. Annual price increase applies

74Mb
Unlimited
24 months
Monthly cost £23.99* 1st year cost: £287.88
£0.00 setup
Online Security & Parental Controls Included



Limited availability - Check your area at Plusnet



No Activation Fee To Pay + Hub 2 Wi-Fi Router + £50 Reward Card To Spend


Average speed*: 66Mb,
Download limit: Unlimited,
£0 setup,
1st year cost £287.88,
£23.99*

Plusnet Unlimited Fibre Extra Broadband


* For 18 months. Includes line rental. Annual price increase applies

66Mb
Unlimited
18 months
Monthly cost £23.99* 1st year cost: £287.88
£0.00 setup
Online Security & Parental Controls Included



Find out more at Plusnet



No Activation Fee To Pay + £50 Reward Card To Spend


Average speed*: 36Mb,
Download limit: Unlimited,
£0.00 setup,
1st year cost £332.40,
£27.70* per month

Plusnet Unlimited Fibre Broadband + Evening & Weekend Calls To UK Landlines & UK Mobiles


*For 18 months. Includes line rental. Annual price increase applies

36Mb
Unlimited
18 months
Monthly cost £27.70* 1st year cost: £332.40
£0.00 setup
Online Security & Parental Controls Included



Find out more at Plusnet



No Activation Fee To Pay


Average speed*: 145Mb,
Download limit: Unlimited,
£0 setup,
1st year cost £335.88,
£27.99*

Plusnet Unlimited Full Fibre 145 Broadband


* For 24 months. No voice service. No line rental to pay. Annual price increase applies

145Mb
Unlimited
24 months
Monthly cost £27.99* 1st year cost: £335.88
£0.00 setup
Online Security & Parental Controls Included



Limited availability - Check your area at Plusnet



No Activation Fee To Pay + Hub 2 Wi-Fi Router + £60 Reward Card To Spend


Average speed*: 66Mb,
Download limit: Unlimited,
£0 setup,
1st year cost £356.40,
£29.70*

Plusnet Unlimited Fibre Extra Broadband + Evening & Weekend Calls To UK Landlines & UK Mobiles


* For 18 months. Includes line rental. Annual price increase applies

66Mb
Unlimited
18 months
Monthly cost £29.70* 1st year cost: £356.40
£0.00 setup
Online Security & Parental Controls Included



Find out more at Plusnet



No Activation Fee To Pay + £50 Reward Card To Spend


Average speed*: 36Mb,
Download limit: Unlimited,
£0.00 setup,
1st year cost £387.24
£32.27* per month

Plusnet Unlimited Fibre Broadband + Anytime Calls To UK Landlines & UK Mobiles


*For 18 months. Includes line rental. Annual price increase applies

36Mb
Unlimited
18 months
Monthly cost £32.27* 1st year cost: £387.24
£0.00 setup
Online Security & Parental Controls Included



Find out more at Plusnet



No Activation Fee To Pay


Average speed*: 66Mb,
Download limit: Unlimited,
£0 setup,
1st year cost £411.24,
£34.27*

Plusnet Unlimited Fibre Extra Broadband + Anytime Calls To UK Landlines & UK Mobiles


* For 18 months. Includes line rental. Annual price increase applies

66Mb
Unlimited
18 months
Monthly cost £34.27* 1st year cost: £411.24
£0.00 setup
Online Security & Parental Controls Included



Find out more at Plusnet



No Activation Fee To Pay + £50 Reward Card To Spend


Average speed*: 500Mb,
Download limit: Unlimited,
£0 setup,
1st year cost £455.88,
£37.99*

Plusnet Unlimited Full Fibre 500 Broadband


* For 24 months. No voice service. No line rental to pay. Annual price increase applies

500Mb
Unlimited
24 months
Monthly cost £37.99* 1st year cost: £455.88
£0.00 setup
Online Security & Parental Controls Included



Limited availability - Check your area at Plusnet



No Activation Fee To Pay + Hub 2 Wi-Fi Router + £75 Reward Card To Spend
About The Author, Steve Tattersall

Steve is a broadband technology writer and digital marketing consultant based in Hampshire (England). He founded the BBC recognised broadband information site BroadbandInternetUk.com in 2004 and is Chief Editor. He has 17 years experience within the telecommunications industry, helping people across the UK with their Internet requirements via a comprehensive range of broadband information, comparison tools and self-help guides, all delivered on BroadbandInternetUk.com. A graduate of Buckinghamshire New University, Steve's background is in Marketing, E-Business, M-Commerce and Online Sales & Marketing. He was previously a telecoms executive at cable operator NTL, which merged with Telewest to form Virgin Media, one of the UK's leading broadband, phone & TV suppliers. In addition to operating this website, Steve has worked as a digital marketing consultant and has skills & interests in SEO, Content Marketing & Affiliate Marketing. To contact Steve, please visit the contact us page or follow him on Twitter.

Back to the top of this page