TalkTalk Sky Sports Offer: 75% Off Sky Sports With TalkTalk TV & Broadband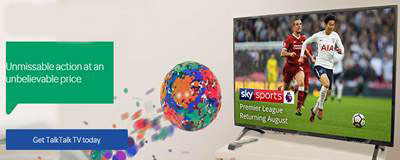 The TalkTalk Sky Sports offer has launched with 75% off Sky Sports when taken with TalkTalk TV, Broadband and phone line rental. This works out at an incredible £8.50 a month for 8 dedicated Sky Sports channels, while the overall bundle price is just £28.45 a month for 12 months. This is Britain's lowest price Sky Sports bundle. FREE set up is included while the £25 TV box cost is currently being waived.
This offer is available to new customers switching to TalkTalk and also existing TalkTalk Broadband customers adding TalkTalk TV & the Sky Sports Boost to their monthly subscription. Read on to find our more or visit the talktalk.co.uk/skysports website to sign up online. Please note the TalkTalk Sky Sports offer is available online only and ends on the 17th of August 2017.
In Detail: The TalkTalk Sky Sports Offer

Take a closer look below at the TalkTalk Sky Sports offer and see what you can get for just £28.45 a month:
TalkTalk Broadband

Totally unlimited fast broadband with FREE setup and speeds up to 17Mbps
Great value fixed price broadband for your whole contract length
Powerful super router
A range of FREE security features helping you control what your family can access and when, plus protection from viruses, phishing attempts and banking fraud with F-Secure
TalkTalk Phone

TalkTalk line rental with pay as you go home phone calls to UK landlines & mobiles
Choose from a range of home phone calling plans to UK landlines, mobiles & international numbers
Use the FREE TalkTalk Mobile SIM provided & enjoy 200 minutes, unlimited texts and 500MB's of data per month on your own mobile
TalkTalk TV

FREE TalkTalk TV box (save £25) when you take the TalkTalk Sky Sports Boost
Enjoy 30-day catch up TV on your own TV using the best on-demand Players like the BBCiPlayer
Watch, pause & rewind live TV covering over 80 Freeview channels
Pick and mix your favourite TV by adding extra Boost channels one month at a time. Add the Kids TV Boost, which has 9 of the top 10 Kids subscription channels for £5 a month, or add Sky Sports for £8.50 a month, or Sky Cinema with over 1,000 movies on demand, for £8 a month
Buy or rent that must-see movie at anytime, then stream or download to watch on the go
The TalkTalk Sky Sports Boost

Watch 8 dedicated Sky Sports channels covering the sports you love
Enjoy over 700 live football matches from the Premier League (starts 12th of August), the EFL Championship (starts 5th of August), the SPFL (starts 5th of August), La Liga (starts 11th of August) and more
There's also live coverage of all 4 Golf majors (The USPGA starts 10th of August), live England International Cricket against South Africa and the West Indies (July & August), every F1 race live, plus US Open Tennis (starts 28th August)
Want Faster Broadband Speeds?

No problem. Simply upgrade to TalkTalk's Faster Fibre Broadband with speeds up to 38Mbps for an extra £6.55 a month
The Legal Stuff

The Sky Sports Boost is available on a 1 month rolling contract, with customers having the Boost price (£8.50 a month) guaranteed for 18 months – that's up until April 2019!
The TalkTalk TV and Broadband contract length is 12 months
TalkTalk phone line rental is required and is now included in the overall bundle price as mentioned above
Readers can find out more and order the TalkTalk Sky Sports offer online at the talktalk.co.uk/skysports website. They can also ring TalkTalk on 0800 049 7865.