Best Broadband Deals 2022
The Vodafone Broadband Switch & Save SALE – Best Ever Prices On Superfast Fibre Broadband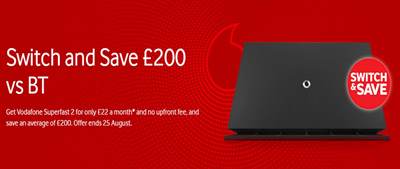 In the Vodafone Broadband Switch & Save SALE, the company has slashed prices across its Superfast Basics, Superfast Pro and Ultrafast Pro fibre broadband packages.
Available to order at the vodafone.co.uk website until the 31st of March 2022, prices now start from just £18 a month for the Superfast 1 Basics package with average 38Mbps speeds – generating an average saving of £337. The Vodafone Superfast 2 Basics Fibre Broadband package with average download speeds of 67Mbps costs just a pound more at £19 a month. It is available on a 24 month contract and comes with an ultra smart FREE Wi-Fi Hub router. There's also no upfront fibre activation fee to pay.
Vodafone Switch & Save SALE: Superfast 2 Fibre Broadband For £19p/m
Here's what's on offer for just £19 a month in the Vodafone Broadband Switch & Save SALE:
1. Vodafone aim to give you the best possible fibre broadband speed on your line with average speeds of 67Mbps and a guaranteed minimum speed or you'll get some money back. This is known as their Ultimate Broadband Guarantee
2. There's no download limits to worry about
3. Receive a FREE ultra smart Wi-Fi Hub with Intelligent Wi-Fi for optimum Wi-Fi performance in and around the home
4. Keep safe online with 6 months FREE trial of F-Secure SAFE anti-virus software for up to 5 devices
5. No upfront setup or activation fees required in most cases. However, those customers switching to Vodafone Fibre who don't currently have a BT Openreach phone line (for example, existing Virgin Media customers), may be charged a new line installation fee of £60
6. Simple switching process as Vodafone will contact your existing provider once you've ordered online. Existing Virgin Media customers will need to to cancel directly with Virgin Media themselves. Vodafone has a handy letter template to help with this
7. Ultra smart Vodafone Broadband app to check your speed
Legal Stuff To Consider
Vodafone fibre broadband and phone services are subject to a credit check, acceptance and availability in your area. A 24 month minimum term contract applies. Pricing may change during the contract period.
The £19 a month cost quoted for the Vodafone Superfast 2 Basics package above applies to new customers and existing Vodafone mobile customers.
What Next?
Readers can find out more about the Vodafone Broadband Switch & Save sale and order online at the vodafone.co.uk website.