Vodafone Black Friday SALE 2018 – Home Broadband Deals From £20p/m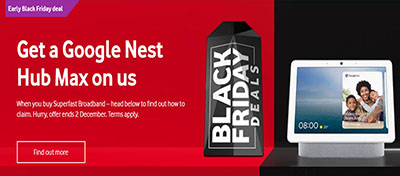 In the Vodafone Black Friday SALE 2018, Vodafone has reduced the price of both its super-fast fibre broadband packages for the home. This currently makes the 35Mbps package, known as Superfast 1, the UK's lowest priced unlimited fibre broadband at just £20 a month.
Available to order at vodafone.co.uk/blackfriday until the 27th of November 2018, the Vodafone Superfast 1 Home Broadband package is available on an 18 month contract and comes with a FREE router and no fibre activation fee to pay.
In Detail: The Vodafone Superfast 1 Fibre Broadband Package

Here's what's on offer for the monthly all-in Black Friday SALE price of just £20 a month (there's no line rental to pay):
1. Vodafone aim to give you the best possible fibre broadband speed on your line with average speeds of 35Mbps expected
2. There's no download limits to worry about
3. Receive a FREE ultra smart Vodafone wireless router for optimum Wi-Fi performance in and around the home
4. Keep safe online with 6 months FREE F-Secure anti-virus software
5. No upfront setup fees required in most cases. However, those customers switching to Vodafone Fibre who don't currently have a BT Openreach phone line (e.g Virgin Media), may be charged a new line installation fee of £60
6. Simple switching process as Vodafone will contact your existing provider once you've ordered online. Existing Virgin Media customers will need to to cancel directly with Virgin Media themselves. Vodafone has a handy letter template to help with this
Legal Stuff To Consider

Vodafone fibre broadband and phone services are subject to a credit check, acceptance and availability in your area. An 18 month minimum term contract applies.
The £20 a month cost quoted for the Vodafone Superfast 1 package above applies to existing Vodafone Mobile customers only. New customers will need to pay a little more – £22 a month.
What Next?

Readers can find out more about the Vodafone Black Friday Broadband SALE and order online at the vodafone.co.uk/blackfriday website.