BT Fibre Checker – Check BT Full Fibre Broadband Availability – Is BT Fibre In My Area?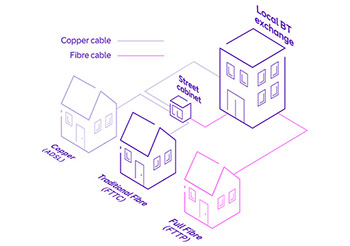 UPDATED 15th September 2023: A new BT Fibre Checker service (a BT FTTP checker) has been launched by BT to help Brits find out when BT Full Fibre Broadband is available in their area.
What Is BT Full Fibre Broadband?
BT Full Fibre is BT's next generation broadband delivering game-changing speeds of 900Mbps. Known as Fibre To The Premise or FTTP, gigabit-capable fibre runs all the way from the local BT exchange direct to a customer's door – which means there's no copper cabling or sharing with your neighbours to slow broadband speeds up.
BT Full Fibre Rollout
The rollout of the BT Full Fibre network is happening now via Openreach. Currently over 11 million homes (as at September 2023), have access to BT Full Fibre – with a nationwide full fibre coverage target set for 2030.
BT Full Fibre Speeds & Prices
With top average download speeds of 900Mbps, BT Full Fibre uses the UK's most reliable broadband technology. BT prices start from just £30.99 a month for BT Full Fibre 100, £42.99 a month for BT Full Fibre 500 (reduced from £47.99p/m) and £52.99 a month for BT Full Fibre 900 (reduced from £57.99p/m). Note, these prices do not include a landline phone service, which can be added if required during signup. The £9.99 upfront fee to cover postage & packaging of the BT Smart Hub router is not required, while the £20 activation fee has been waived. A £50 BT Reward card, which is in effect, a prepaid Mastercard with £50 to spend on it, is available with all BT Full Fibre packages.
Ultra-fast BT Full Fibre broadband speeds of over 900Mbps could also be made available within the next year following BT's recent successful trial of Fibre To The Premises (FTTP) broadband in St Agnes, Cornwall.
Commenting on the trials, Openreach Chief Executive Olivia Garfield said: "FTTP on demand is a significant development for Broadband Britain. Essentially, it could make our fastest speeds available wherever we deploy fibre".
How Can I Check BT Full Fibre Availability In My Area?
Homeowners and businesses can check whether they can receive BT Full Fibre Broadband by using the latest 2023 BT Fibre Broadband Checker (BT FTTP checker) at BT.com.