Best Broadband Deals 2022
Vodafone Broadband FREE Gift – FREE Amazon Tech Pack With Any Vodafone Home Broadband Plan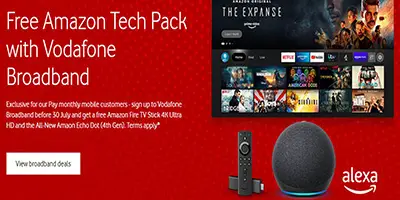 Existing Vodafone mobile customers switching to any Vodafone home broadband plan (Basic from £20p/m, Pro from £30p/m or Xtra from £30p/m) at the vodafone.co.uk/freegift website by midnight on the 3rd of October 2022 can qualify for a FREE Amazon Tech Pack. The pack contains a 4K Ultra HD Amazon Fire TV stick with Alexa voice remote and the all-new Amazon Echo Dot (4th generation).
Vodafone Pro Broadband is new from Vodafone and has been designed for reliability with Super Wi-Fi in every room. With automatic 4G broadband backup included, prices start from just £30 a month for Pro Superfast 1.
Vodafone Pro Superfast 2 Broadband
Vodafone uses the same Openreach network as BT, Sky, Plusnet and TalkTalk to offer Vodafone superfast Pro packages. Here's what you get for the monthly all-in price of just £30 a month for the Vodafone Pro Superfast 2 package:
1. Super-fast fibre broadband download speeds averaging 63Mbps
2. The latest ultra smart Vodafone Wi-Fi Hub, its most powerful to date
3. Intelligent Wi-Fi giving all your devices the fastest, most reliable connection
4. Super Wi-Fi whole home guarantee with smart extenders to eliminate Wi-Fi deadzones
5. Automatic 4G broadband backup in case your Internet goes down
6. Dedicated UK based Wi-Fi experts on hand
7. 12 months FREE Norton 360 Premium – Award winning anti-virus protection & parental controls
8. A 24 month contract
9. Easy to switch – no need to contact your existing provider (unless its Virgin Media) as Vodafone will do this for you
10. FREE Amazon Tech pack as detailed above
Legal Stuff To Consider
A new line provision charge of £60 may apply if a customer doesn't currently have a BT Openreach phone line. If this applies, you will be notified during the sign-up process.
How To Claim The Vodafone Broadband FREE Amazon Tech Pack
Step 1:
Order online a Vodafone home broadband package at the vodafone.co.uk/freegift website by the 3rd of October 2022. All Vodafone home broadband packages are eligible, be it Basics, Pro, or Xtra – covering superfast, ultrafast and gigafast options
Step 2:
Within 14 days of your order, Vodafone will email or text you to confirm that you qualify for the offer & outline the next steps
Step 3:
Up to 28 days after your broadband is activated, Vodafone will send you an email or text with a promo code for the Amazon Tech Pack. This will also include instructions and a link to order the Tech Pack from Amazon
If the promo code does not work, please contact Vodafone on 191 (free from a Vodafone mobile).
The Amazon Tech Pack promo code expires on the 25th of August 2023, so please make sure you use it by then.
What Next?
Want to find out more information? Simply visit the vodafone.co.uk/freegift website where you can also order online.