Best Broadband Deals 2019
Vodafone Broadband FREE Gift 2019 – Amazon Echo Plus Worth £140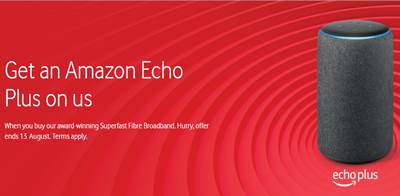 New customers switching to a Vodafone Unlimited Home Fibre Broadband package at the vodafone.co.uk/freegift website by midnight on the 13th of August 2019 can qualify for a FREE Amazon Echo Plus (2nd Generation) worth £140.
Vodafone Home Fibre Broadband packages start from just £21 a month for average download speeds of 35Mbps. They also guarantee a minimum speed of 25Mbps to your router or money off until it's fixed.
Vodafone Fibre Broadband

Vodafone uses the same BT Openreach network as BT, Sky, Plusnet and TalkTalk to offer Vodafone fibre optic broadband packages with no phone line rental required. Here's what you get for the monthly all-in price of just £21 a month:
1. Super-fast fibre broadband download speeds averaging 35Mbps
2. Totally unlimited usage
3. An ultra smart Vodafone Connect wireless router
4. 6 months FREE F-Secure SAFE anti-virus software
5. No phone line rental charges
6. Easy to switch – no need to contact your existing provider (unless its Virgin Media) as Vodafone will do this for you.
Legal Stuff To Consider

An 18 month minimum term contract applies with a one-off set up fee of £9.99. A new line provision charge of £60 may also apply if a customer doesn't currently have a BT Openreach phone line.
How To Claim The Vodafone Broadband FREE Amazon Echo Plus

New customers will be eligible to claim their FREE Amazon Echo Plus upon receipt of an email from Vodafone which will contain a promotional code that can be used at the checkout on Amazon.co.uk. This email will be sent within 30-60 days after the customer purchases a Vodafone Home Broadband Plan. The promotional code will be valid until the 31st of December 2019.
What Next?

Want to find out more information? Simply visit the vodafone.co.uk/freegift website where you can also order online.