Vodafone FREE Ring Doorbell With Any Pro II Broadband Plan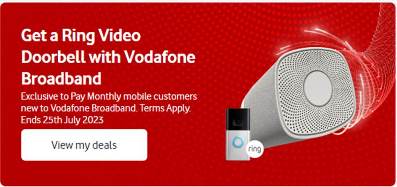 The Vodafone Ring Doorbell offer is now available at the vodafone.co.uk/freegift website. Existing Vodafone mobile customers switching to any Vodafone home broadband Pro II plan by midnight on the 25th of July 2023 can qualify for the FREE Ring Doorbell.
Vodafone Pro II Broadband is new from Vodafone and has been designed for superior performance and reliability by using the UK's fastest Wi-Fi technology. With automatic 4G broadband backup included, prices start from just £40 a month for Pro II Fibre Broadband.
Vodafone Pro II Fibre 2 Broadband
Vodafone uses the same Openreach network as BT, Sky, Plusnet and TalkTalk to offer Vodafone Pro II fibre packages, together with the City Fibre network. Here's what you get for the monthly all-in price of just £40 a month for the Vodafone Pro II Fibre 2 package:
1. Super-fast fibre broadband download speeds averaging 67Mbps
2. The latest all-new ultra smart Vodafone Wi-Fi Hub with built-in Wi-Fi 6E technology for the fastest speeds
3. Intelligent Wi-Fi giving all your devices the fastest, most reliable connection
4. Super Wi-Fi whole home guarantee with Wi-Fi 6E Booster to eliminate any Wi-Fi deadzones
5. Automatic 4G broadband backup in case your Internet goes down
6. Dedicated UK based Wi-Fi experts on hand
7. 12 months FREE Norton 360 Premium – Award winning anti-virus protection & parental controls
8. A 24 month contract
9. Easy to switch – no need to contact your existing provider (unless its Virgin Media) as Vodafone will do this for you
10. FREE Ring Video Doorbell (2nd Generation) as detailed above
11. You'll also receive a personalised monthly discount (a Vodafone Together benefit) as you'll become a Vodafone pay monthly mobile and home broadband customer
Want Faster Speeds? – No Problem
Vodafone Pro II is available with full fibre 100Mbps speeds (£41p/m), 200Mbps (£43p/m), 500Mbps (£44p/m) and 910Mbps (£54p/m).
Looking For A Vodafone Pay Monthly Phone Deal In July?
In the Vodafone Summer sale, there's savings of up to £288 available on the new Samsung Galaxy S23 Ultra and £144 savings on the Apple iPhone 13. Find out more at the vodafone.co.uk website. The SALE applies across a range of handsets – with significant savings also available if you are buying as a business.
Legal Stuff To Consider
The FREE Ring Video Doorbell is only available to new & existing Vodafone pay monthly mobile customers ordering a new Vodafone home broadband Pro II plan for the first time. Vodafone pay monthly mobile customers upgrading an existing Vodafone home broadband plan are not eligible.
A new line provision charge of £60 may apply if a customer doesn't currently have an Openreach or City Fibre line. If this applies, you will be notified during the sign-up process.
How To Claim The Vodafone FREE Ring Doorbell Offer
Step 1:
Order online a Vodafone home broadband Pro II package at the vodafone.co.uk/freegift website by 11.59pm on the 25th of July 2023. Make sure you provide a valid email address when you order.
Step 2:
Up to 28 days after your Vodafone Pro II home broadband plan is activated, Vodafone will verify your eligibility for the offer and send you an email or text with details on how to redeem the offer.
This will include a promotional code to be redeemed online at Amazon for the Ring Video Doorbell.
If you do not receive an email or text, please contact Vodafone on 191 (free from a Vodafone mobile).
What Next?
Want to find out more information? Simply visit the vodafone.co.uk/freegift website where you can also order a Pro II broadband plan online.