TalkTalk's BIG Broadband SALE – 25% Off + No Mid-Contract Price Rises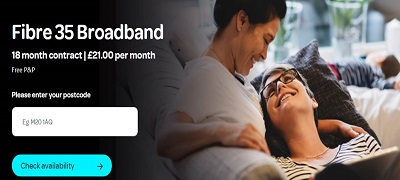 TalkTalk's BIG Broadband SALE offering up to a 25% discount on its broadband and fibre packages is now live at the talktalk.co.uk website.
Prices start from a market-leading £21 a month for TalkTalk's award-winning Fibre 35 package. This is a fixed monthly price that is guaranteed to stay the same for the duration of the 18 month contact – which means there's no nasty mid-contract price rises for new customers to worry about.
TalkTalk – Award-Winning Broadband With No Mid-Contract Price Rises
TalkTalk's value-packed Fibre 35 package is totally unlimited and includes all the essentials. With average download speeds of 38Mbps, it is designed for those households where there's plenty of devices online at the same time. The package features:
Half price set-up fees, saving up to £50
NO price rises, in fact, TalkTalk is the only major broadband supplier to guarantee no broadband price rises for the entire length of a contract
NO hidden costs, meaning no bill surprises
And NO download usage limits to be aware of and constantly monitoring
Want A Super-Fast Internet Experience For Everyone In Your Home?
Consider TalkTalk's Fibre 65 package, which is ideal for homes who need broadband that can handle HD movies being streamed in multiple rooms, while others are gaming online and uploading large files, all at the same time.
Featuring super-fast average download speeds of 67Mbps, the fixed monthly price of just £23 including phone line rental, is one of TalkTalk's best ever fibre deals and has 25% off the usual price.
With more speed and reliability, the package also benefits from security and parental controls, call privacy features and a powerful Super Router.
What Next?
Find out more on TalkTalk's BIG Broadband SALE at the talktalk.co.uk website or speak to a member of the TalkTalk sales team on 0800 049 7865. They're nice people!