The Plusnet Broadband SALE – 66Mbps Fibre Speeds For £26.99p/m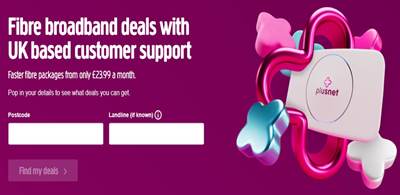 The latest Plusnet Broadband SALE is on with price reductions on superfast fibre broadband. New customers ordering selected Plusnet Fibre Broadband and Phone packages online at the plus.net website can qualify for FREE activation, which means there's no upfront fees to pay. 
New customers switching to Plusnet need only pay from £26.99 a month for Unlimited Plusnet Fibre Broadband Extra which provides average download speeds of 66Mbps, together with an unlimited download usage allowance and FREE wireless router. Plusnet phone line rental is also included.
Various phone call plans can be added, starting from just £6.53 a month for inclusive evening and weekend phone calls to UK landlines, 0845/0870 numbers and UK mobiles.
Want To Pay Less? Take Plusnet Fibre
Providing average download speeds of 36Mbps, Plusnet Fibre Broadband & line rental is available from just £24.99 a month in the Plusnet Broadband sale. This package features unlimited downloads, award-winning UK Support, FREE wireless router and currently has no activation fee (saving £10). Find out more at the plus.net website.
What Is The Plusnet Reward Card?
The Plusnet Reward Card is just like having cash. The card is pre-loaded with funds (up to £70) that can be spent at most merchants (online & shops) that display the Mastercard logo. The Reward Card is sometimes available to new customers taking a Plusnet Fibre package, so keep an eye out when you're signing up.
Other Useful Things To Know About Plusnet
Plusnet has recently been credited as a 'Which? Recommended Broadband Provider' with a four star rating for 'value for money', 'connection reliability', 'technical support' and 'customer service'.
Its UK based customer service call centre is open 24 hours a day, 365 days a year and is free to call, even from a mobile.
With low prices for broadband and phone packages coupled with the highest standards of care for its customers, its no wonder that in a recent independent survey, Plusnet customers were found to be more satisfied than those of Sky, Virgin Media and TalkTalk.
Legals To Consider
If you need a new phone line installed at your property, a one-off £49.99 installation charge will apply. This excludes any external construction charges.
Interested readers can find out further information on the Plusnet Broadband SALE and order online at the plus.net website.