Articles on the topic :
Vodafone Broadband

New customers & existing Vodafone mobile customers switching to a Vodafone Pro home broadband plan at the vodafone.co.uk/freegift website by midnight on the 2nd of May 2021 can qualify for a FREE £75 Amazon gift voucher to spend.
Vodafone Pro Broadband is new from Vodafone and has been designed for reliability with Super Wi-Fi in every room – or you can leave your contract for free – and that's guaranteed. With automatic 4G broadband backup included, prices start from just £37 a month or £34 a month if you're a Vodafone pay monthly mobile customer.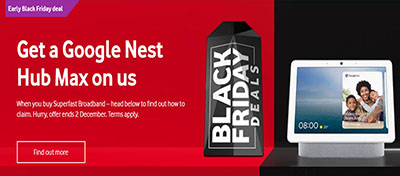 In the Vodafone Black Friday SALE 2019, the company is offering new customers a FREE Google Nest Hub Max Smart Home Controller worth £219 when they order a Vodafone super-fast fibre broadband package for the home.
Available to order at vodafone.co.uk/blackfriday until the 2nd of December 2019, the Vodafone Superfast 1 Home Broadband package provides average download speeds of 35Mbps for just £24 a month. It is available on an 18 month contract and comes with an ultra smart FREE wireless router. There's also no upfront fibre activation fee to pay.