Articles on the topic :
Vodafone Broadband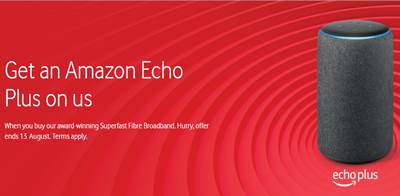 New customers switching to a Vodafone Unlimited Home Fibre Broadband package at the vodafone.co.uk/freegift website by midnight on the 13th of August 2019 can qualify for a FREE Amazon Echo Plus (2nd Generation) worth £140.
Vodafone Home Fibre Broadband packages start from just £21 a month for average download speeds of 35Mbps. They also guarantee a minimum speed of 25Mbps to your router or money off until it's fixed.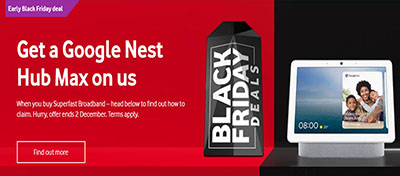 In the Vodafone Black Friday SALE 2018, Vodafone has reduced the price of both its super-fast fibre broadband packages for the home. This currently makes the 35Mbps package, known as Superfast 1, the UK's lowest priced unlimited fibre broadband at just £20 a month.
Available to order at vodafone.co.uk/blackfriday until the 27th of November 2018, the Vodafone Superfast 1 Home Broadband package is available on an 18 month contract and comes with a FREE router and no fibre activation fee to pay.