Articles on the topic :
Vodafone Broadband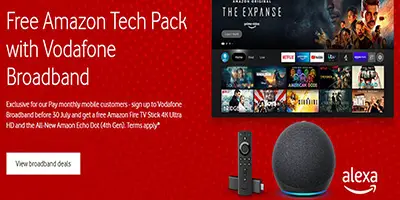 Existing Vodafone mobile customers switching to a Vodafone Pro home broadband plan at the vodafone.co.uk/freegift website by midnight on the 31st of March 2022 can qualify for a FREE Amazon Tech Pack containing a 4K Ultra HD Amazon Fire TV stick and the all-new Amazon Echo Dot (4th generation).
Vodafone Pro Broadband is new from Vodafone and has been designed for reliability with Super Wi-Fi in every room. With automatic 4G broadband backup included, prices start from just £28 a month for Pro Superfast 1.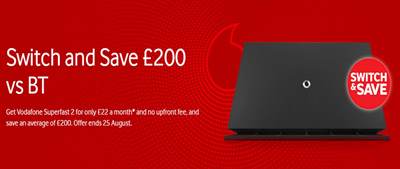 In the Vodafone Broadband Switch & Save SALE, the company has slashed prices across its Superfast Basics, Superfast Pro and Ultrafast Pro fibre broadband packages.
Available to order at the vodafone.co.uk website until the 31st of March 2022, prices now start from just £18 a month for the Superfast 1 Basics package with average 38Mbps speeds – generating an average saving of £337. The Vodafone Superfast 2 Basics Fibre Broadband package with average download speeds of 67Mbps costs just a pound more at £19 a month. It is available on a 24 month contract and comes with an ultra smart FREE Wi-Fi Hub router. There's also no upfront fibre activation fee to pay.