TalkTalk Fibre 35 – £27 A Month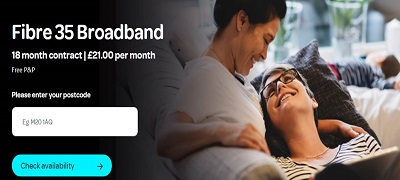 UPDATED 12th July 2023: TalkTalk Fibre 35 is now TalkTalk's cheapest fibre deal and can be ordered online at the talktalk.co.uk/sale website.
Priced at £27 a month, totally unlimited fibre broadband speeds averaging 38Mbps together with phone line rental are offered. Should a better TalkTalk Broadband deal become available during the 24-month contract term, customers will have peace of mind knowing they can easily switch to it.
TalkTalk Fibre 35 Speed & Cost
Here's what's on offer to new customers for just £27 a month:
Great value totally unlimited broadband with average 38Mb download speeds
No download usage caps or broadband speed reductions to worry about
TalkTalk's Super Router for a consistently strong & reliable connection
Award-winning online protection for the whole home, known as HomeSafe
Inclusive privacy features, plus anti-virus protection for 1 device (easily upgrade to add other devices)
FREE home phone calls between TalkTalk customers
A 24-month contract period with phone line rental included
As there's no home phone calling plan included within the Fibre 35 TalkTalk Broadband package, customers simply pay for what calls they make in accordance with TalkTalk's standard call tariff.
Alternatively, customers can use their anytime call minutes allowance that comes with their mobile phone or take one of TalkTalk's flexible UK landline & mobile calling plans. Flexible international call plans are also available.
Add & Remove A Range Of Extras To Fibre 35
If you need faster fibre broadband speeds, or a TV package, consider upgrading to one or more of TalkTalk's alternative packages below:
Add the TalkTalk TV 4K box (at £4 a month) and create your own world of TV entertainment. There's 80 Freeview channels to enjoy, 7 day catch-up TV, pause, rewind & record live TV, plus access to 30 streaming apps like the BBC iPlayer and ITV Player. You can also access streaming apps like NOW, Netflix and Amazon Prime (usual subscription fees apply)
Upgrade to TalkTalk Fibre 65 Broadband and enjoy average download speeds of 67Mbps with phone line rental included for a price of £28 per month
What Next?
Readers can find out more on TalkTalk Fibre 35 and order online at the talktalk.co.uk/sale website.