Best Broadband Deals 2022
TalkTalk Winter Deals 2022 Offer Big Savings Of Up To £215 On Fibre Broadband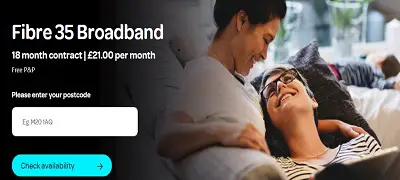 The TalkTalk Winter deals 2022 are now live offering big savings of up to £215 over 18 months on its range of fibre broadband packages. There's no setup fees to pay, while award-winning SuperSafe online security is included when ordered online at the talktalk.co.uk/winterdeals website.
With guaranteed no price rises for 18 months, the TalkTalk Fibre 35 plan delivers unlimited download speeds averaging 38Mbps, together with TalkTalk phone line rental, for just £22 a month (usual price is £29.95p/m). Pay as you go calls to UK landlines are available, while customers can choose to add a range of flexible landline calling plans.
Fixed Price TalkTalk Fibre 35 Broadband
Take a look below at what's included in the TalkTalk Fibre 35 package:
Super-reliable and totally unlimited Broadband download speeds averaging 38Mbps
TalkTalk's new Wi-Fi Hub Black Wireless Router for a strong, stable & reliable connection
99% core network reliability
No price rises for the length of the 18 month contract period
Online protection for the home and devices with HomeSafe and CallSafe
Award-winning SuperSafe online security worth £72
An 18 month contract period with phone line rental included
What Next?
Readers can find out more on TalkTalk's Winter Deals and fix their broadband price for 18 months by ordering online at the talktalk.co.uk/winterdeals website.