Best Broadband Deals 2019
BT SIM Only Deals – Get 5GB For £12p/m + FREE £45 BT Reward Card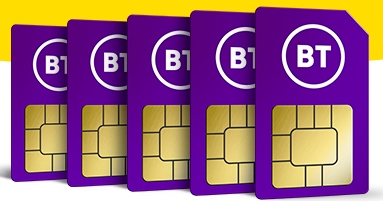 In the BT Mobile SALE, BT Broadband customers have until the 25th of July 2019 to secure BT's brand new 5GB SIM only deal for just £12 a month at the bt.com/simonly website. They'll also qualify for a FREE £45 BT Reward card that they can use to spend on what they like.
Customers subscribing to a BT SIM only deal will also qualify for a £50 discount on a range of 3G and 4G mobile phones on sale at the BT Shop, including the Samsung Galaxy S10 – which they can use with their new BT SIM only plan. Those customers wishing to take a BT Mobile monthly phone contract can currently secure the iPhone 6s from just £17 a month at the BT Mobile website. Choose a smartphone on a 6GB and above BT mobile plan and qualify for a FREE waterproof JBL Flip 4 portable Bluetooth speaker worth £119. This offer also expires on the 25th of July 2019.
BT SIM Only Deals

Take a closer look below at the BT Mobile SIM only deals currently available. The prices displayed are for existing BT Broadband customers who qualify for a £5 monthly discount. BT SIM only deals come on a 12 month contract, while a 30 day minimum term applies on all BT Family SIMs.
BT 3GB SIM Only Deal

This is a great value Starter Plan from BT, offering unlimited call minutes, unlimited texts and 3GB of data for £10 a month.
BT 5GB SIM Only Deal

At £12 a month, this perfect Essential SIM Plan is currently available with 5GB's of data a month, together with unlimited call minutes and unlimited texts.
BT 12GB SIM Only Deal

This brand new plan from BT offers 12GB's of data a month, plus unlimited calls and texts for just £15 a month.
BT 40GB SIM Only Deal

This is the Ultimate SIM Plan from BT, featuring unlimited calls, unlimited texts and 40GB's of data for £27 a month.
BT Mobile SIM Only Deals – Additional Benefits

Customers subscribing to a BT Mobile SIM Only plan can also enjoy these additional benefits:
Experience super-fast 4G speeds in more places than O2, Three and Vodafone
Enjoy unlimited access to BT's 5 million UK Wi-Fi hotspots
Watch Premier League matches on the BT Sport app on your smartphone
Limit your own monthly mobile spend thus avoiding any bill surprises
Add SIMs for other members of the family & save money with the BT Family SIM plan
Want To Find Out More?

Visit the bt.com/simonly website for further information and to order online.