Best Broadband Deals 2021
BT Mobile SIM Only Deals – Get 20GB For £10 A Month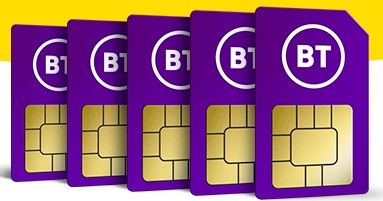 In the BT Mobile SALE 2021, BT Broadband customers have until the 21st of October 2021 to secure BT's brand new 20GB SIM only deal for just £10 a month at the bt.com/simonly website. 
Customers subscribing to a BT SIM only deal will also qualify for a £50 discount on a range of 4G/5G mobile phones on sale at the BT Shop – which they can use with their new BT SIM only plan. Those customers wishing to take a BT Mobile monthly phone contract can currently secure the iPhone XR from just £31 a month at the BT Mobile website. There's no upfront fee and BT Sport on the app is included.
BT Mobile SIM Only Deals
Take a closer look below at the BT Mobile SIM only deals currently available. The prices displayed are for existing BT Broadband customers who qualify for a £5 monthly discount. These BT SIM deals come on a 24 month contract, while a 30 day minimum term applies on all BT Family SIMs.
BT 5GB SIM Only Deal
This is a great value Starter Plan from BT, offering unlimited call minutes, unlimited texts and 5GB of data for £8 a month.
BT 20GB SIM Only Deal
At £10 a month, this perfect Essential SIM Plan is currently available with 20GB's of data a month, together with unlimited call minutes and unlimited texts.
BT 60GB SIM Only Deal
This plan from BT offers 60GB's of data a month, plus unlimited calls and texts for just £15 a month.
BT 100GB SIM Only Deal
This is the Ultimate SIM Plan from BT, featuring unlimited calls, unlimited texts and 100GB data for £20 a month.
BT Mobile Plans – Additional Benefits
Customers subscribing to a BT Mobile SIM Only plan can also enjoy these additional benefits:
Experience super-fast 4G/5G speeds in more places than O2, Three and Vodafone
Enjoy unlimited access to BT's 5 million UK Wi-Fi hotspots
Watch Premier League matches on the BT Sport app on your smartphone (available on all 50GB+ plans)
Limit your own monthly mobile spend thus avoiding any bill surprises
Add SIMs for other members of the family & save money with the BT Family SIM plan
Want To Find Out More?
Visit the bt.com/simonly website for further information and to order online.