TalkTalk Customers Moving Home Get FREE TalkTalk Set Up In Their New Property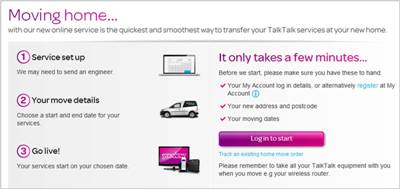 TalkTalk customers moving home can now take their TalkTalk Broadband, Calls and TV package with them for FREE by using TalkTalk's Home Mover service at talktalk.co.uk/homemover together with the supplied self-install kit. Please note though that a fee of up to £60 may apply if a TalkTalk home move engineer is required.
The online service only takes a few minutes to set up and is the quickest and smoothest way to transfer a customer's TalkTalk package to their new home. Don't forget though, that moving home also represents a great opportunity to switch to a new broadband supplier and save money, so we'd recommend comparing broadband deals first.
Before entering TalkTalk's moving home online service, TalkTalk customers are advised to have their 'My Account' login details to hand, together with their new address & postcode, plus their moving dates.
Once in the TalkTalk Home Mover service, TalkTalk customers can do the following when placing their Home Mover order:
– Select the dates they want their TalkTalk service to finish at their current property and start at their new home
– Choose to take their existing package with them or upgrade to TalkTalk's Plus TV package
– Choose to install themselves with a supplied self-install kit or book a home move engineer to set them up (a cost may apply for a home move engineer visit up to the value of £60)
– Decide whether they would like to pay for their phone line rental monthly or upfront with TalkTalk's Value Line Rental plan
TalkTalk will also check whether a customer's router is fit for purpose, and if there's a problem, TalkTalk will send out a new router (a charge may be applied, please check).
At anytime after ordering, TalkTalk customers can log back into the service and track the status of their Home Mover order. If required, they can change the service end and start dates they've selected and see the tracking codes for any new routers or self install kits that are being sent out.
When it comes to moving day, TalkTalk customers must remember to take all their TalkTalk equipment with them e.g their wireless router and YouView TV box if they have one.
TalkTalk customers can find out more and place their Home Mover order online at the talktalk.co.uk/homemover website.