Best Sky Fibre Broadband Deals For New Customers July 2018 – £21 A Month + FREE Return Flight To Europe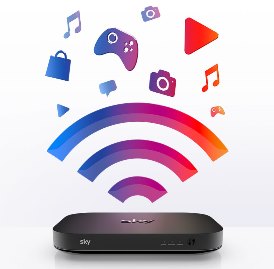 Sky is offering new customers its Sky Fibre Broadband package with Sky phone line rental included for just £21 a month (usually £30p/m) when they order online at the sky.com/broadbandoffer website by the 19th of July 2018.
This is Sky's best ever price for Sky Fibre Broadband and includes a FREE return flight to Europe with lastminute.com. Sky Broadband Shield, Sky's Internet Protection for all internet-connected devices in the home is also included, while a one-off £59.95 fibre setup fee applies.
The Sky Fibre Broadband package has average download speeds of 36Mbps which Sky promise won't be slowed down, even at peak times of the day. There's also a 25GB monthly download usage allowance.
The package also features Sky's newly re-designed Hub (its best ever wireless router), phone line rental, together with pay as you go phone calls to UK landlines and Sky Talk Shield.
Unlimited Sky WiFi access is also available at thousands of popular locations across the UK, including hotels, airports & high street coffee outlets, to name but a few.
Sky Fibre Broadband is available on an 18 month contract and requires customers to switch their broadband, calls and line rental to Sky – which usually takes less than 2 weeks with the help of Sky's impressive Switching Squad.
If you're a BT, TalkTalk, EE or Plusnet customer, the Sky Switching Squad will, upon you ordering Sky Broadband online, liaise with your current provider so you don't have to. They may also offer you a switching credit up to the value of £100 to cover any cancellation charges you may incur with your existing provider.
Want Unlimited Downloads? Try Sky Fibre Broadband Unlimited

For £25 a month, new customers can opt for Sky Fibre Broadband Unlimited and enjoy average download speeds of 36Mbps with an unlimited monthly download usage allowance.
New customers ordering online any Sky Fibre Broadband Unlimited package without Sky TV will also qualify for the FREE return flight to Europe offer. A one-off setup fee of £59.95 applies for Sky Fibre Broadband Unlimited.
It's worth noting that in Ofcom's most recent Telecoms & Pay TV Complaints Report, Sky received the fewest complaints compared with BT, EE, Plusnet, TalkTalk and Virgin Media fixed broadband.
Readers can find out more and compare the best Sky Broadband deals here.