When Is The Virgin Media Speed Upgrade Coming To My Area?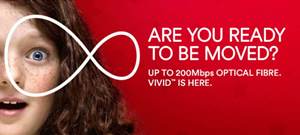 Good news....Virgin Media is boosting its broadband speeds again with download speeds set to rise to a mouth-watering 350 megabytes per second (Mbps) across its next generation optical fibre network.
Who Gets The Virgin Media Speed Boost?
All existing Virgin Media broadband customers on either the 50Mbps, 100Mbps or 200Mbps packages will be offered upgrades to the new VIVID 100Mbps, VIVID 200Mbps and the VIVID 350Mbps services. New customers can also benefit when they switch to Virgin Media.
When Will The Virgin Media Speed Upgrade Start?
It has already started. Work began back in October 2016 and they have very nearly completed the roll out across its network which covers around 13 million UK homes.
When Will The Virgin Media Speed Boost Come To My Area?
The chances are it's already there! Simply enter your postcode at virginmedia.com/speedupgrade to find out when the faster broadband speeds will be available in your area.
If you are willing to sign a new contract with Virgin Media, it is likely that you will be given the opportunity to receive the faster broadband speeds ahead of the roll out schedule.
If you would rather wait, Virgin Media will email you when the faster speeds are available in your area. The email will contain instructions on how to order the upgrade on the My Account section of the Virgin Media website.
Will I Have To Pay Extra For The Faster Broadband Speeds?
We do not know at this stage. The last time Virgin Media rolled out a speed upgrade across its network, there was an increase in the monthly package price, so it is likely.
Considering Switching To Virgin Media? Compare Deals
Provider
Package Details
Average Speed*
Download Limit
Contract Period
Costs
More Info


Average speed*: 54Mb,
Download limit: Unlimited,
£25 setup,
1st year cost £349,
£27*

Virgin Media VIVID 50 Fibre Broadband + Weekend Calls To UK Landlines & Mobiles


* For 12 months. Includes Virgin Media phone line rental

54Mb
Unlimited
12 months
Monthly cost £27.00* 1st year cost: £349.00
£25.00 setup
Costs Include Phone Line Rental



Ends soon! Find out more >



14-Day Money Back Guarantee


Average speed*: 108Mb,
Download limit: Unlimited,
£25 setup,
1st year cost £409,
£32*

Virgin Media VIVID 100 Fibre Broadband + Weekend Calls To UK Landlines & Mobiles


* For 12 months. Includes Virgin Media phone line rental

108Mb
Unlimited
12 months
Monthly cost £32.00* 1st year cost: £409.00
£25.00 setup
Costs Include Phone Line Rental



Ends soon! Find out more >



14-Day Money Back Guarantee


Average speed*: 213Mb,
Download limit: Unlimited,
£25 setup,
1st year cost £469,
£37* per month

Virgin Media VIVID 200 Fibre Broadband + Weekend Calls To UK Landlines & Virgin Mobiles


* For 12 months. Includes Virgin Media phone line rental

213Mb
Unlimited
12 months
Monthly cost £37.00* 1st year cost: £469.00
£25.00 setup
Costs Include Phone Line Rental



Ends soon! Find out more >



14-Day Money Back Guarantee


Average speed*: 54Mb,
Download limit: Unlimited,
£25 setup,
1st year cost £421,
£33* per month

The Player Bundle: Virgin Media VIVID 50 Fibre Broadband + Weekend Calls To UK Landlines & Virgin Mobiles + 70 Digital TV Channels + 5 HD Channels + 7 Day Catch-Up TV + TV, Movies & Music On Demand + 500GB TiVo Box


* For 12 months. Includes Virgin Media phone line rental

54Mb
Unlimited
12 months
Monthly cost £33.00* 1st year cost: £421.00
£25.00 setup
Costs Include Phone Line Rental



Ends soon! Find out more >



14-Day Money Back Guarantee


Average speed*: 54Mb,
Download limit: Unlimited,
£25 setup,
1st year cost £445,
£35*

Virgin Media VIVID 50 Fibre Broadband


* For 12 months. No Virgin Media phone line rental required

54Mb
Unlimited
12 months
Monthly cost £35.00* 1st year cost: £445.00
£25.00 setup
No Phone Line Rental Required



Ends soon! Find out more >



14-Day Money Back Guarantee


Average speed*: 362Mb,
Download limit: Unlimited,
£25 setup,
1st year cost £565,
£45* per month

Virgin Media VIVID 350 Fibre Broadband + Weekend Calls To UK Landlines & Mobiles


* For 12 months. Includes Virgin Media phone line rental

362Mb
Unlimited
12 months
Monthly cost £45.00* 1st year cost: £565.00
£25.00 setup
Costs Include Phone Line Rental



Ends soon! Find out more >



14-Day Money Back Guarantee


Average speed*: 213Mb,
Download limit: Unlimited,
£25 setup,
1st year cost £805,
£65* per month

Full House Sports Bundle: VIVID 200 Broadband + Weekend Calls To UK Landlines & Virgin Mobiles + 245 Digital TV Channels Incl. 16 Sky Channels + All Sky Sports Channels + All 4 BT Sport HD Channels, 47 HD Channels + 7 Day Catch-Up TV + TV, Movies & Music On Demand + 500GB TiVo Box


* For 12 months. Includes Virgin Media phone line rental

213Mb
Unlimited
12 months
Monthly cost £65.00* 1st year cost: £805.00
£25.00 setup
Includes All Sky Sports & BT Sport Channels



Ends soon! Find out more >



Usually £77 A Month + 14-Day Money Back Guarantee