Virgin Media – Have Xmas On Us Package
Virgin Media have launched their 'Have Xmas On Us' package that offers new customers free broadband, free phone calls and free digital TV for the months of December and January.
Included is broadband speeds up to 10Mb (Virgin Broadband Size L), unlimited weekend UK landline phone calls (Virgin Phone Size M) and access to over 145 digital TV channels (Virgin TV Size XL) – with the V+ box also thrown in.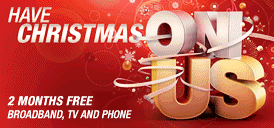 With Virgin TV size XL you'll be able to watch TV channels like Virgin 1 and Film 4, plus the likes of Sky 1, 2 and 3 following the company's recent agreement with Sky to carry these channels again.
There's also Sky News, Sky Sports News and access to the BBC iPlayer to catch up on all of the BBC's TV and radio content.
New customers interested in this package must order it online by the 30th November to get December and January free.
Find out more in our Virgin Broadband, TV & Phone review.