How To Switch Broadband Provider In 5 Easy Steps
by Steve Tattersall, Broadband Technology Writer, last updated 17 May 2023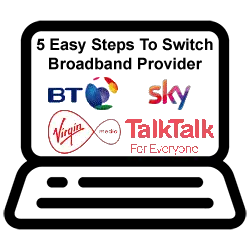 If you're one of the 7.4 million UK households out of contract on your broadband (Source: Ofcom, May 2022), or your contract with your existing broadband supplier is coming to an end, switching to a different provider represents a great opportunity to save some money (on average, up to £110) and choose a more suitable package.
Can I Switch If I'm Not Getting The Broadband Speeds Promised?
You may also be able to switch supplier during your contract if your broadband service does not deliver the speeds you were promised when you brought it. In this instance, the first thing to do is contact your provider and if they are unable to fix your broadband speeds within 30 days, under Ofcom rules, they must let you exit your contract without any charges or penalties. The right to leave your contract without penalty also applies to any bundled services you brought at the same time as your broadband, like landline rental, home phone calling plans and pay-TV. Currently these protections apply to the following broadband suppliers; BT, Sky, Plusnet, EE, Virgin Media, TalkTalk and Utility Warehouse.
Is It Easy To Change Broadband Provider?
Switching broadband provider is now an easier process following Ofcom's decision a few years ago to introduce a 'one-touch switch process' that places the responsibility for the broadband or landline switch entirely in the hands of the company to which the customer is moving to.
Known as the 'gaining provider led' switching process, it applies to those customers who's broadband provider uses the Openreach telecommunications network. The good news is that over 200 broadband suppliers currently use the Openreach network, including the likes of BT, Sky, TalkTalk, Plusnet, EE and many more.
The likes of Virgin Media, FibreNation, Hyperoptic, City Fibre, Community Fibre and Gigaclear are not on the above list as they have their own fibre networks. If you are switching to or from one of these, it will be up to you to co-ordinate the start time of your new broadband service with the end of your old one. In this instance, it may be wise to arrange a slight timing overlap. There is some good news regarding this, as Ofcom announced in September 2021 that it will be requiring providers to introduce the same 'one-touch switch process' described above, by April 2023 (note, this has been delayed & Ofcom is investigating) - thus making it far easier and quicker to switch between all broadband networks. In fact, the 'one-touch switch process' could take as little as a day according to Ofcom, with compensation given if takes longer.
Here's Our 5-Step Approach To Switching Supplier:
This 5-step approach applies to those customers where their existing and new broadband supplier both use the Openreach network as described above.
Step 1 - Check Your Current Providers Terms and Conditions
Read through the cancellation policy and find out any cancellation charges that may apply. If you're still in a 12 or 18 month contract, you may find the cancellation charge outweighs the benefit of switching supplier.
Step 2 - Find A New Broadband Deal
Use our BBC recognised broadband search & comparison tools to find a provider and package that best suits your needs
Step 3 - Order Online
Choose the deal you want on our website & and then click through to the provider's website to place your order online. Note, when you buy, you should receive accurate information from your chosen supplier on how fast your broadband will be and also the minimum guranteed broadband speed you will receive.
Furthermore, under new Ofcom rules that came into force on the 17th of June 2022, broadband suppliers must provide new customers with a short, one page summary of the main contract terms & conditions before they sign up to the new deal. This must include details on the length of the contact, speed of the service, price, plus clear information and examples on how any price increases during the contract will affect how much they pay each month. Suppliers must also set out the specific terms and conditions should a customer decide to end their contract early.
Step 4 - Your Broadband Service Should Be Transferred In Two Weeks
Upon ordering online, you'll receive an order confirmation email with the estimated date for the transfer of service to your new supplier. Then, upon delivery, simply plug in the new wireless router supplied by your new provider and follow the set up instructions in their 'Welcome Pack'.
Should your new broadband service not start on the agreed date or the engineer misses the appointment, your provider will compensate you under Ofcom's Automatic Compensation Scheme which launched back in April 2019. The following broadband companies are signed up to this; BT, Sky, TalkTalk, Virgin Media, Zen Internet and Hyperoptic. Please note, due to the coronavirus pandemic, broadband companies may request an exception to automatic compensation in certain situations.
Step 5 - Check Your Account With Your Previous Provider Has Been Cancelled
Once your connected with your new provider, make sure the account with your old supplier has been cancelled so no further monthly payments are taken. It may also be worth cancelling any old direct debits or standing orders.
Why Are My New Broadband Speeds Unstable?
Please note that it can take up to 10 days for your new provider to find the most stable broadband speeds for your line. Therefore, you may find your connection unsettled during this initial period of time. It's also worth noting there's lots of other factors that can affect the broadband speeds you receive. Take a look at our article on the top 10 causes of slow broadband speeds for more information.
What Next?
Start looking for a new broadband deal with our broadband search & comparison tools.
About The Author, Steve Tattersall

Steve Tattersall is a broadband technology writer with 20 years experience within the Internet industry. Based in Hampshire, England, he founded the BBC recognised broadband information site, BroadbandInternetUk.com, in 2004 and is currently the Director Of Marketing & Operations. During this time he has helped thousands of people across the UK with their Internet requirements by compiling a comprehensive range of broadband information, comparison tools and guides, all delivered on BroadbandInternetUk.com. A graduate of Buckinghamshire New University (Brunel Business School) with a first class honours degree in Business, Steve has first hand experience of working for a broadband provider, having had a previous career at the broadband supplier NTL. Following its merger with rival Telewest, NTL is now known as Virgin Media, one of the UK's leading broadband, phone & TV providers. If you would like to contact Steve, please visit the contact us page or follow him on Twitter. You can also find out more about BroadbandInternetUk.com on our about us page.

Back to the top of this page