TalkTalk's Unrivalled Broadband Deals In July 2022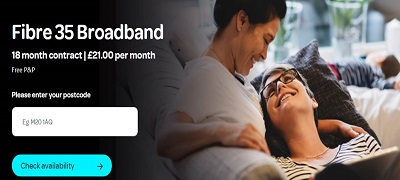 New customers considering switching broadband supplier still have time to take advantage of some unrivalled broadband deals from the UK's value telecom provider, TalkTalk, that are available to order online at the talktalk.co.uk website in July 2022.
With four mid-contract price rises in the last year alone from other leading UK broadband providers, TalkTalk's unrivalled deals start from just £23.50 a month.
TalkTalk's Unrivalled Broadband Deals
Generating savings of around £200 compared to rival broadband plans, take a look below at what TalkTalk has to offer:
1. TalkTalk Fibre 35 Broadband – £23.50 A Month
Unlimited, uncapped and with average download speeds of 38Mbps, TalkTalk's Fibre 35 package is available for a monthly price of just £23.50 over an 18 month contract. With phone line rental included and no setup fee, this plan also benefits from the inclusion of TalkTalk's new Wi-Fi Hub and 30 Day Great Connection Guarantee. See This Deal At TalkTalk >>
2. TalkTalk Fast Broadband – £24.95 A Month
Enjoy great value totally unlimited copper broadband with average 11Mbps download speeds for £24.95 a month. This price includes phone line rental and no broadband setup fee applies. TalkTalk's Super Router is supplied as standard, while flexible landline call plans and TV Boosts can be added. See This Deal At TalkTalk >>
3. TalkTalk Fibre 65 Broadband – £24.45 A Month
This plan provides even more fibre speed for those that live more of their lives online. With average download speeds of 67Mbps, the package has the ability to handle HD movies being streamed in multiple rooms, while others are gaming online and uploading large files, all at the same time. Available for a market-leading price of just £24.45 a month, this package also features the new Wi-Fi Hub for optimum performance and the 30 Day Great Connection Guarantee. See This Deal At TalkTalk >>
Legals To Consider
TalkTalk phone line rental is included within the monthly prices mentioned above, while customers can pay as they use their home phone (as per TalkTalk's standard phone tariff) or add an evening & weekend or anytime calling plan.
The average broadband speeds described above are based on the download speeds of at least 50% of TalkTalk's customers at peak usage times (8pm-10pm). Please note that broadband speeds can vary depending on a number of different factors and that your exact speed estimate will be given when you order online.
What Next?
Find out more on TalkTalk's unrivalled broadband deals and order a TalkTalk package online at the talktalk.co.uk website.