TalkTalk Student Broadband Deal – £30 A Month Fibre With £100 Voucher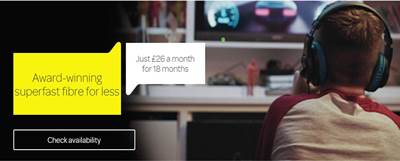 One of TalkTalk's best ever Student Broadband deals is now available providing students sharing a house during the university year with award-winning fibre broadband speeds of 36Mbps for just £30 a month.
Students ordering online at talktalk.co.uk/student by the 27th of September 2018 can also qualify for a £100 voucher to use at stores like Amazon, Tesco, the Great British Pub and the Restaurant Card.
Why Choose Student Broadband From TalkTalk?

It's not just Faster Fibre Broadband at a student friendly price…take a look below at what's on offer:
Award-winning average fibre broadband speeds of 36Mbps which TalkTalk promise not to slow down, even at peak traffic times
Totally unlimited downloads which means housemates can do more online with multiple devices all at the same time, which is perfect for student living
TalkTalk's new Wi-Fi Hub (worth £120) providing their fastest, strongest and most reliable Wi-Fi signal ever
FREE fibre setup, saving £30
A shorter, exclusive 12 month student contract period that fits in nicely with the university year
Guaranteed no price rises during the 12 month contract period
Industry-leading online security and privacy features with HomeSafe, TalkSafe and CallSafe
A 30-day Great Connection Guarantee, which means if the student household doesn't love its new TalkTalk Fibre connection, they'll be free to leave without any penalties
No phone calls package included, thus enabling students to either pay for what calls they make & nothing more, or use their own call allowances on their mobiles
How Do Students Qualify For The £100 Voucher?

First off, it's worth noting that only one £100 voucher is available per student household taking a TalkTalk Fibre Broadband package.
Students must sign up to the £100 voucher at the talktalk.co.uk/student website by giving their email address and then continue with their fibre broadband order.
Legal Stuff

The £100 voucher offer is valid for new TalkTalk Broadband customers only who are students at university. One £100 voucher is available per student household.
A one-off £9.95 delivery charge applies for the TalkTalk Wi-Fi Hub.
TalkTalk phone line rental is included within the TalkTalk Fibre Broadband price of £30 a month.
What Next?

Readers can find out more on TalkTalk's Student Broadband Deal and order online at the talktalk.co.uk/student website.