What Are The Top 10 Causes Of Slow Broadband Speeds?
by Steve Tattersall, Broadband Technology Writer, last updated 18 May 2023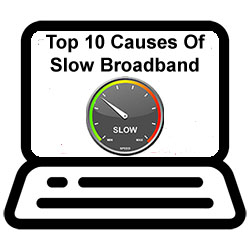 We are often asked 'what causes slow broadband speeds?' so please find below, in no particular order, 10 top reasons why you might be experiencing slow broadband speeds in your home or business.
Cause 1. Faults At The Telephone Exchange
There may be a problem or fault with the equipment or wiring in your local telephone exchange or street cabinet. Some exchanges and cabinets in more rural areas may also be operating with older equipment and wiring that is not capable of supplying faster speeds.
Cause 2. Telephone Line Faults
The telephone line that provides the phone and internet connection to your home may be damaged or have a fault on it. This could be on the line between the exchange and the street cabinet, or between the street cabinet and your home.
Cause 3. Your Homes Distance To The Local Telephone Exchange
If your broadband is supplied over a traditional copper phone line from a provider like BT, Sky, Plusnet or TalkTalk, then it is highly likely that the further you live from your local telephone exchange the slower your broadband speed will be.
Even if you have fibre optic broadband from these providers, this may only be fibre from the exchange to the local cabinet, with the traditional copper wire used from the cabinet to your home. As such, a possible speed of up to 67Mbps may not be achieved.
This does not apply to a provider like Virgin Media, whose fibre optic cabling direct to the home (known as full fibre or FTTP), combined with its DOCSIS 3 technology, means reduced speeds over longer distances are unlikely. The only downside is that the Virgin Media network is only available in certain geographic areas of the UK (around 53%).
In addition to Virgin Media, full fibre broadband networks are being rolled out across the UK by a number of infrastructure providers like Openreach (used by the likes of BT, Sky, TalkTalk, Vodafone & Plusnet), CityFibre (used by Vodafone & TalkTalk), Hyperoptic, KCOM, Gigaclear, Community Fibre and many more. Including Virgin Media, around 70% of UK homes (21 million) can now access gigabit capable, full fibre broadband speeds, so consider switching to one of these.
Cause 4. Interference On Telephone Extension Leads
If you are not plugging your broadband router directly into the main phone socket in your home then it is likely that your broadband speeds are being reduced by interference on the telephone extension leads you are using. Flattened under the carpet, tangled or coiled extension leads can make matters worse.
Cause 5. Damaged Microfilters
Microfilters plugged into every phone socket in your home can help reduce interference and increase broadband speeds, but if they are damaged or have a fault, expect your broadband speeds to take a hit.
Cause 6. Traffic Management Policies
Some broadband providers reduce or 'throttle' broadband speeds at peak times of the day as their equipment is reaching capacity. This is often referred to as their 'Traffic Management Policy' in their terms and conditions.
Cause 7. Multiple Users
The more people in your home going online at the same time can play a part in slowing down your internet connection, especially if it is at peak times when your broadband provider may also be slowing speeds.
Cause 8. Older Routers
Older routers and those routers with known problems can cause slower broadband speeds and regular disconnections, so consider an upgrade.
Cause 9. The Location Of Your Router
Some electrical equipment such as televisions, cordless phones, stereo speakers, halogen lamps and Christmas lighting can cause electrical interference with your router and thus cause speed problems.
Cause 10. Your PC, Laptop, Browser, TV Or Game Console
Your broadband connection may actually be fine. Instead, a problem with your PC or laptop, or perhaps the apps running in the background, may be causing your device to run slower than usual. Older web browsers can also be a factor.
On demand TV services and game consoles might also be downloading content or updates, all of which can affect broadband speeds.
What Next?
Find out what broadband speeds and packages are available in your area with our postcode checker
About The Author, Steve Tattersall
Steve Tattersall is a broadband technology writer with 20 years experience within the Internet industry. Based in Hampshire, England, he founded the BBC recognised broadband information site, BroadbandInternetUk.com, in 2004 and is currently the Director Of Marketing & Operations. During this time he has helped thousands of people across the UK with their Internet requirements by compiling a comprehensive range of broadband information, comparison tools and guides, all delivered on BroadbandInternetUk.com. A graduate of Buckinghamshire New University (Brunel Business School) with a first class honours degree in Business, Steve has first hand experience of working for a broadband provider, having had a previous career at the broadband supplier NTL. Following its merger with rival Telewest, NTL is now known as Virgin Media, one of the UK's leading broadband, phone & TV providers. If you would like to contact Steve, please visit the contact us page or follow him on Twitter. You can also find out more about BroadbandInternetUk.com on our about us page.

Back to the top of this page