Best Broadband Deals 2019
BT Student Broadband Deals 2018 – 9 Month BT Broadband Deals For Students From £8.75p/m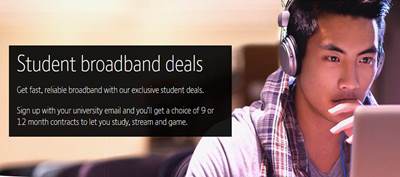 BT's student broadband deals for 2018 have launched providing students sharing a house during the university year with a choice of 2 super-fast fibre optic broadband packages – each of which can be ordered online at the bt.com/student website.
BT's student broadband deals are available on a 9 month student contract (typically from October to June), which means come the summer, students are free from any contractual obligations.
Take a look at one of BT's cheapest student broadband deals below, the package comes with FREE BT Sport and plenty of FREE apps to help students save money.
The BT Superfast Fibre Unlimited Student Deal – £8.75p/m Each In A House Of 4
Available for a total of £35 a month including phone line rental, this student broadband deal from BT is excellent value for money and delivers:
BT Superfast Fibre Broadband with average download speeds of 50Mbps
An unlimited monthly download usage allowance which means there's plenty of data to go around
The monthly price is frozen for the duration of the 9 month contract, so no mid-contract price rises
FREE BT Sport app and online player – watch the latest Premiership matches at anytime on any device
FREE unlimited Wi-Fi app – free access to BT's 5 million public Wi-Fi hotpots across the UK means there's no need to worry about mobile data limits
100GB's of secure online storage with BT Cloud – great for backing up that all important coursework and dissertations
BT's latest Smart Hub wireless router – providing the UK's most powerful Wi-Fi signal around the home
BT SmartTalk app – a great little app to help save money on expensive calls from mobiles
The Legal Stuff
Students should consider the following when signing up:
A 9 month contract applies
A one-off £35 activation fee applies
What Next?
Students can find out more on BT's student broadband deals and order online at the bt.com/student website.