TalkTalk TV Kids Bundle Gets Hopster Educational Content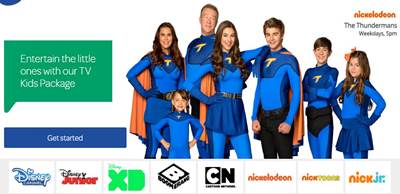 New customers switching to the TalkTalk Broadband and TV Kids bundle can now enjoy over 500 episodes of Hopster educational content on demand, in addition to 10 top Kids TV channels, plus a unique Kids TV remote control when they order online at the talktalk.co.uk website.
This handy TV and broadband bundle has something for parents and kids alike, with 13 of the nations's favourite TV channels, including Sky One and Fox. There's also 80 Freeview channels, plus unlimited broadband and phone line rental included in the special bundle price of just £30.95 a month. Existing TalkTalk TV customers can access the new Hopster content by simply paying a rolling £6 a month for the Kids TV Boost.
What Is Hopster?
Hopster is a pre-school learning and entertainment app offering 500 on-demand episodes from popular shows like the animated underwater series, Octonauts, the US's longest running children's series, Sesame Street and Two Minute Tales, a Hopster original animation.
The carefully selected Hopster content will help teach kids about the world around them, how to interact appropriately with friends and family, basic numeracy, literacy and more.
TalkTalk is the first UK TV provider to make Hopster educational content directly available as part of its Kids TV package.
Interested In Switching To The TalkTalk Broadband & Kids TV Bundle?
With the monthly price of £30.95 guaranteed for the life of the 18 month contract, here's the complete low-down on the TalkTalk Broadband & Kids TV bundle:
Kids TV Channels & Remote Control
There's 10 of the most-loved Kids TV channels to enjoy including the Disney Channel (channel number 480), Disney Junior (481), Disney XD (482), Nickelodeon (483), Nickjr (484), Cartoon Network (486), Boomerang (487) and Cartoonito (488)
Keep the kids entertained with the top 250 kids shows on pay-tv, plus over 200 episodes on demand. There's everything like Peppa Pig, Spongebob Squarepants, Puppy Dog Pals, Mickey & The Roadster Racer, Paw Patrol, Lion Gard, Teen Titans Go, plus Masha & The Bear
Designed by kids, the Kids TV remote control launches a Kids Zone only on the TV, enabling kids to choose their favourite shows and watch them on-demand
Parents can keep control of what their children watch and when, while the kids can watch back-to-back episodes without needing their parents help
TalkTalk TV Plus & TV Select – Something For Parents Aswell!
Pause, rewind and record up to 180 hours of live TV with the TalkTalk Plus TV box
Enjoy 80 Freeview channels (15 in HD), plus TalkTalk's TV Select Boost serving up 13 of the UK's most loved TV channels including Sky One, Fox, Sky Sports News, GOLD, Comedy Central, Sky Living, The History Channel, National Geographic, MTV, Crime Investigation, Sky Arts, Sky Two, Real Lives and GOLD+1
Catch up on the TV you've missed using the BBC iPlayer, ITV player, All4, Demand 5 and more on your own telly
Add and remove premium channels like Sky Cinema and Sky Sports on a monthly basis (additional payment required)
Rent the latest blockbuster movies from the TalkTalk TV Store from just £4
Access Netflix straight from your TV using your Netflix subscription
Fast Broadband & Phone Line Rental
Totally unlimited broadband with average download speeds of 11Mbps
Download as much as you like with no usage caps or speed reductions at peak times
No broadband setup fee
TalkTalk phone line rental included
Only pay for the calls you make from your home phone or add a landline call plan for an additional monthly cost
Legals To Consider
While there is no broadband setup fee (usually up to £50), there is a one-off £25 upfront fee required for the TalkTalk Plus TV box and a one-off £5 for the Kids TV remote control.
What Next?
Want to find out more? Visit the talktalk.co.uk website or speak to the TalkTalk team on 0800 049 7865.