TalkTalk Fibre Broadband SALE – £25 A Month + No Fibre Setup Fee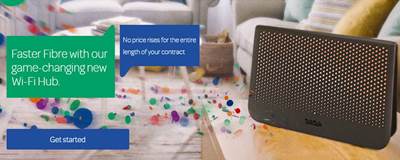 The TalkTalk Fibre Broadband SALE is now live with a discounted price of £25 a month (that's 25% off) and no fibre setup fee available to new and existing TalkTalk customers who order online at the talktalk.co.uk/fibre website by the 25th of January 2018.
At just £25 a month for the duration of the 18 month contract, the TalkTalk Fibre Broadband package is currently Britain's Lowest Fixed Price Fibre Broadband. With a fixed monthly price guaranteed not to rise during the course of the contract, this deal represents a great opportunity for new and existing customers to switch to TalkTalk Fibre.
Why Switch To TalkTalk Fibre Broadband?

TalkTalk Fibre uses the same fibre optic broadband cables (known as the BT Openreach network) as BT and Sky, but charges much less at just £25 a month. Take a look below at 10 other great reasons to switch to TalkTalk Fibre:
1. Super-fast fibre broadband download speeds up to 38Mbps, which are 4 times faster than UK standard broadband speeds
2. Upload speeds are two times faster than the UK standard, thus enabling photos to be uploaded quicker to Facebook and Twitter
3. Totally unlimited monthly downloads with no usage limits, caps or associated charges to worry about
4. A powerful super router with an unbeatable Wi-Fi connection for great coverage and signal strength
5. Everyone in the house can upload, stream and download at the same time
6. Online security features with parental controls
7. Peace of mind knowing there will be no price rises during the course of the contract
8. No fibre setup fee, which means there's no one-off £50 to pay
9. The option to add flexible UK landline call plans and international plans
10. Add TalkTalk TV for no additional monthly subscription and enjoy over 80 Freeview TV channels and 30-day catch up TV. Add premium channels like Sky Cinema and Sky Sports on flexible rolling one month contracts
Legal Stuff To Consider

TalkTalk phone line rental is included with the Fibre Broadband price. This means there is one fixed price per month for TalkTalk Fibre Broadband and phone line rental – which provides total clarity and peace of mind for all customers for the duration of the 18 month contract.
A one-off £25 fee applies for the TalkTalk TV box should customers opt to add TalkTalk TV.
What Next?

Want to find out more? Simply visit the talktalk.co.uk/fibre website. Orders can be placed online or over the phone on 0800 049 7865.