TalkTalk Fibre Deals From £22.50 A Month + Reduced Set-up Fee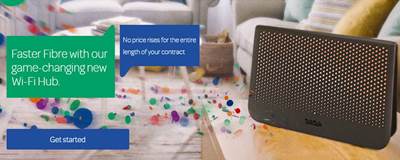 New customers switching to a TalkTalk Fibre deal from £22.50 a month can now save £20 on the set-up fee when they order online at the talktalk.co.uk/fibre website by the 2nd of August 2018.
Usually £30, the fibre set-up fee has been reduced to a one-off £9.95, while the £22.50 monthly TalkTalk Fibre price is Britain's Lowest Fixed Price Fibre Broadband – which TalkTalk guarantee will not rise during the course of the 18 month contract.
Here's 9 Great Reasons To Switch To TalkTalk Fibre!

1. Enjoy super-fast and award-winning average fibre broadband download speeds of 35Mbps, which are 4 times faster than UK standard broadband speeds
2. Upload speeds are two times faster than the UK standard (nearly 10Mbps), thus enabling photos and videos to be uploaded quicker to your favourite social media channels
3. 100% totally unlimited monthly downloads with no usage limits, caps or associated charges to worry about
4. The all-new and game-changing Wi-Fi Hub, perfect for lots of different devices, doing lots of different things, all at the same time
5. Industry-leading security and privacy features like CallSafe, TalkSafe and SuperSafe Boost
6. Easy interaction with TalkTalk's Support team via the MyTalkTalk app or via SMS, so no need to stay on hold for a response
7. The option to add flexible UK landline call plans and international plans to your package
8. Add TalkTalk TV for an extra £7 a month and enjoy over 80 Freeview TV channels, plus 14 of the UK's favourite channels like Sky 1 and Fox with the included TV Select boost
9. Alternatively, add the Sky Sports Season Pass for £15 a month for 9 months, saving £171, and get the TalkTalk TV box for FREE
Legals To Consider

TalkTalk phone line rental is included within the Fibre Broadband price.
A one-off £9.95 fibre broadband set-up fee is required, while a one-off £25 fee usually applies for the TalkTalk TV box should customers opt to add TalkTalk TV.
What Next?

Want to find out more? Simply visit the TalkTalk Fibre website. Orders can be placed online or over the phone on 0800 049 7865.