Love Your New TalkTalk Fibre Connection Or You're Free To Leave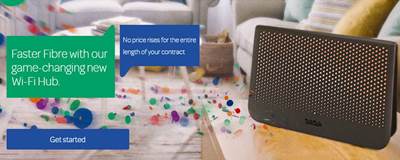 TalkTalk has launched a 30-Day Great Connection Guarantee that's available to new customers switching to a TalkTalk Fibre package online at the talktalk.co.uk/fibre website.
The guarantee means new TalkTalk Fibre Broadband customers will have 30 days from the date of activation to try TalkTalk's Fibre connection and if they're not totally satisfied, they can contact TalkTalk by phone and leave with no penalties.
More About The TalkTalk Fibre 30 Day Great Connection Guarantee:
TalkTalk are so confident new customers will love their totally unlimited fibre broadband that they've introduced the 30 Day Great Connection Guarantee.
The guarantee provides new customers with total peace of mind that they've made the right choice by switching to TalkTalk Fibre.
Should a new customer not be happy with their fibre connection, TalkTalk will do all they can to put things right. However, should a new customer still want to leave under the 30 Day Great Connection Guarantee they simply need to phone TalkTalk to cancel their contract. The TalkTalk Customer Care team will then send a pre-paid bag for the customer to return the TalkTalk equipment (e.g the Wi-Fi Hub). They will also refund any monies owed.
How Much Does TalkTalk Fibre Cost?
Award-winning TalkTalk Fibre starts from £23.50 a month for the Totally Unlimited Fibre 35 package, which provides average download speeds of 38Mbps.
Customers wanting faster speeds can opt for the Fibre 65 package which is £24.45 a month and supplies average download speeds of 67Mbps.
Each package is fixed in price for the duration of the 18 month contract and features the new TalkTalk Wi-Fi Hub which uses next generation Wi-Fi technology to provide double the speed of TalkTalk's existing Super Router.
Legals To Consider
TalkTalk phone line rental is included within the Fibre prices mentioned above, while customers can pay as they use their home phone (in accordance with TalkTalk's standard phone tariff) or add an evening & weekend or anytime calling plan.
What Next?
Find out more on TalkTalk's new 30 Day Great Connection Guarantee and order a TalkTalk Fibre package online at the talktalk.co.uk/fibre website.