TalkTalk FLASH SALE: Fast Broadband, TV Plus Box & TV Entertainment Boost – £38.95 A Month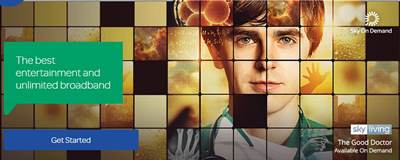 The TalkTalk FLASH SALE is now on offering customers 14 of the nation's favourite TV channels including Sky One and Fox, when they order the TalkTalk Fast Broadband, TV Plus Box and TV Entertainment package at the talktalk.co.uk/flash website.
Giving customers the best TV entertainment like The Walking Dead Season 9 on Fox and Modern Family Season 9 on Sky One, this £38.95 a month package also features 7 day catch-up TV, 80 Freeview channels, unlimited broadband and phone line rental!
Take A Closer Look At TalkTalk's TV Entertainment & Broadband Package
With no broadband setup fee and just a one-off £50 charge for the TV Plus Box, here's a detailed breakdown of TalkTalk's Fast Broadband with TV Plus Box and TV Entertainment package:
The TalkTalk TV Plus Box
Enjoy over 80 Freeview channels, with 15 in HD
Pause, rewind & record up to 180 hours of live TV
Catch-up on the last 7 days TV using the BBC iPlayer, ITV Hub & All4
Add & remove premium channels like Sky Sports and Sky Cinema one month at a time
The TalkTalk TV Entertainment Boost
Containing over 30 pay TV channels, enjoy some of the nation's favourites, including Sky One, Fox, Sky Sports News, GOLD, Comedy Central, Sky Living, History Channel, National Geographic, MTV, Crime Investigation, Sky Arts, Sky Two, Real Lives and GOLD+1
Watch popular premieres like the Walking Dead Season 9, Jamestown & Ex On The Beach Season 8, plus returning series like Modern Family Season 9, Strike Back Season 9 & Blind Spot Season 3
Catch-up on over 200 hours of TV shows available on demand
Add flexible TV Boosts (like the Kids TV Boost for £5 a month), that you can turn on and off, one month at a time
Unlimited Broadband
Unlimited usage with average download speeds of 11Mbps
Browse social media, shop, chat or stream music
Super router and free internet security
Broadband price is fixed for the length of the 18 month contract
No broadband setup fee, saving up to £50
Phone Line Rental & Calls
TalkTalk phone line rental
Pay as you go calls to UK landlines or use your call minutes allowance on your mobile
FREE call privacy features
FREE calls to friends who are TalkTalk landline customers
Landline call plans (evening & weekend, anytime plans) are available for an additional monthly fee
What Next?
Readers can find out further information on the TalkTalk FLASH SALE at the talktalk.co.uk/flash website. They can also speak to a TalkTalk sales advisor on 0800 049 7865.