Fix Your Broadband Price For Up To 18 Months With TalkTalk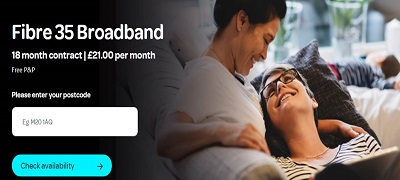 With mid-contract broadband price rises back in the news and expected to hit many Brits pockets, now is the time to consider switching to a fixed low price broadband plan from TalkTalk, the UK's value telecoms provider.
Over 1.6 million TalkTalk customers now benefit from the fixed low price plans, with a third of these opting to fix their broadband prices for 18 months. This price certainty and peace of mind matters, which in turn has helped TalkTalk experience the biggest year-on-year improvement in customer satisfaction in the Telecoms sector, according to the Customer Satisfaction Index.
It's also worth knowing that TalkTalk is the first and only broadband provider in the UK to offer existing customers the same deals as those available to new customers.
With simple and fair pricing for all, we've highlighted the following TalkTalk deals that are worth considering:
1. TalkTalk Fast Broadband – From £22.95 A Month
This is Britain's best value fixed price broadband with no setup fees, unlimited usage and average download speeds of 11Mb. Value-packed with a powerful super router, online security and parental controls, TalkTalk guarantee you'll have no price rises for the entire length of your plan. Find out more >>
2. TalkTalk Fibre 35 Broadband – £22 A Month
Ideal for busy households that have multiple devices, doing lots of different things online, all at the same time, TalkTalk Fibre 35 is Britain's best value fixed price Fibre. With unlimited average broadband speeds of 36Mb and no price rises guaranteed, Fibre 35 from TalkTalk packs a punch from just £22 a month – AND No fibre setup fee is currently required (saving £30). Find out more >>
3. TalkTalk Fibre 35 Broadband & TV Plus – From £39.50 A Month
Customers can pause, rewind & record live TV and enjoy over 80 Freeview channels with TalkTalk's Faster Fibre and TV Plus package with TV Select boost. With a one-off £50 charge for the TalkTalk TV Plus box, this package also serves up 14 of the nation's favourite TV channels including Sky 1 and Fox, plus the best On Demand players like the BBC iPlayer, ITV Player and All4. Extra channel packs like Kids and Sky Cinema can also be added and removed one month at a time. Find out more >>
Want To Know More?
Simply visit the talktalk.co.uk website or speak to a TalkTalk sales advisor on 0800 049 7865.