9 Month Virgin Media Student Broadband Deals – From £8.50 A Month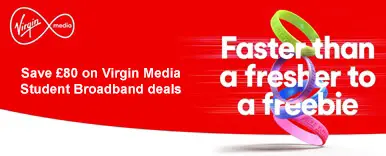 Virgin Media has launched its 9 month student broadband deals at virginmedia.com/student, all of which come with unlimited downloads.
These exclusive 9 month student broadband contracts mean students don't have to pay for broadband during the summer months, while they can also save extra money by taking a Virgin Media Broadband package without Virgin phone line rental – a saving of £19 a month.
Virgin Media broadband packages are the UK's fastest widely available broadband according to the industry regulator, Ofcom.
The company's 50Mbps package costs £34 a month (just £8.50p/m each in a shared house of 4), while those requiring faster speeds can opt for the 100Mbps or 200Mbps package and pay £39 or £47 a month respectively. A one-off activation fee of £9.99 applies.
Each of the broadband packages comes with unlimited downloads which means all students in the house can watch videos, listen to music and chat on Facebook as much as they want – And all at the same time.
Also included within each package is a FREE super hub wireless router, FREE Internet security and FREE back up & storage – which means important files and pictures can't be lost. FREE servicing and repairs are also available.
Students can usually get online within 4 working days of ordering a Virgin Media student broadband package with Virgin Media's QuickStart self install.
Interested readers can find out more about the new Virgin Media student broadband deals and order online at the virginmedia.com/student website.