TalkTalk FREE TV Plus Box Worth £50 & FREE Set Up Offer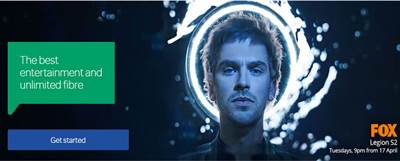 Time is running out for both new and existing TalkTalk customers to secure the FREE TalkTalk TV Plus box offer worth £50 AND the FREE set up offer that comes with TalkTalk's TV Plus with Fast Broadband package. Orders must be placed online at talktalk.co.uk/tv by midnight on the 30th of November 2017 to qualify.
Featuring 6 top Sky TV entertainment channels, the TalkTalk TV Plus package has been reduced in price to just £24.95 a month and includes fixed price broadband, phone line rental, plus around 100 TV channels to enjoy.
The TalkTalk TV Plus package enables subscribers to create the TV they really want by enabling them to add or remove '1 month boosts' for extra channels like Kids, Sky Sports and Sky Cinema. They can also instantly rent or buy must-see movies and box sets.
Take A Closer Look At The TalkTalk TV Plus Package

Subscribers can create their own world of TV & film entertainment with the TalkTalk TV Plus package. This is backed up with fixed price, totally unlimited TalkTalk Broadband which is available on a range of contract lengths. Take a closer look below at what's on offer:
TalkTalk TV

The FREE TalkTalk TV Plus box (worth £50), enabling users to pause and rewind live TV, plus record and store 180 hours of TV
Over 100 TV channels to enjoy, including over 80 Freeview channels, 6 top Sky TV channels like Sky 1, plus other channels like Comedy Central and Fox TV
Catch up and on demand TV on your own telly using popular Players like the BBC iPlayer and ITV Player
Use the TalkTalk TV Boosts to add and remove extra TV channel packs like the Kids Channel and Sky Sports or Sky Cinema, all on short one month contracts
TalkTalk Broadband

Enjoy download speeds up to 17Mb or pay extra for TalkTalk Fibre speeds up to 38Mb
With unlimited downloads, there's no usage caps or limits to worry about
FREE wireless router, plus award-winning online protection
Fix the price for your broadband plan over a 12, 18 or 24 month period
Pay As You Go Calls

No phone call plan is included, so you simply pay for the calls you make in line with TalkTalk's standard call tariff
FREE landline calls can be made anytime between TalkTalk Broadband customers
If you'd prefer a phone call plan, there's a range of flexible landline call plans to choose from, some of which include calls to international numbers
Want To Find Out More?

Visit the talktalk.co.uk/tv website for more information and to order online.