Best Broadband Deals 2021
The BT Mobile SALE – 100GB SIM Only For £20 A Month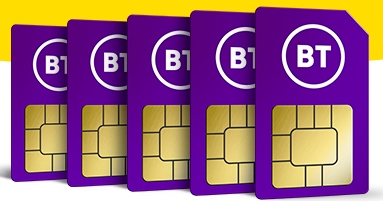 New and existing BT Broadband customers can nab themselves a great BT Mobile deal in the BT Mobile SALE at bt.com/btmobile.
Existing BT Broadband customers can get BT's new 100GB SIM only plan from just £20 a month, plus enjoy watching BT Sport on their mobile. Alternatively, order an iPhone SE from just £25 a month in the BT Mobile SALE and receive 12 months FREE Apple TV+. These offers end on the 29th of April 2021.
The BT Mobile SALE – 100GB SIM Only Plan
Customers with BT Broadband can enjoy all this for the great price of just £20 a month, plus keep their existing mobile phone and number:
100GB's of data every month
Unlimited texts every month to keep in touch
Unlimited call minutes each month to chat away
Enjoy All This Too:
Fast 4G speeds as standard
FREE unlimited Wi-Fi at BT's 5 million UK hotspots
A  24-month contract
Live Premier League action using the BT Mobile Sport app (worth £10 a month)
What Next?
Interested readers can find out more and order the BT 100GB SIM only plan online at the bt.com/btmobile website.