The BT Mobile September SALE 2018 – 10GB SIM Only For £15 A Month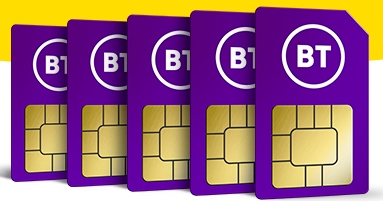 New and existing BT Broadband customers can nab themselves a great BT Mobile deal in the BT Mobile September sale at bt.com/btmobile.
Existing BT Broadband customers can get BT's new 10GB SIM only plan for £15 a month, plus receive a FREE £70 BT Reward Card. There's also a £50 discount on mobile phones at the BT online shop. Alternatively, order an iPhone 7 from just £20 a month in the BT Mobile September SALE. These offers end on the 27th of September 2018.
The BT Mobile SALE – 10GB SIM Only Plan
Customers with BT Broadband can enjoy all this for the great price of just £15 a month, plus keep their existing mobile phone and number:
10GB's of data every month
Unlimited texts every month to keep in touch
Unlimited call minutes each month to chat away
Enjoy All This Too:
Fast 4G speeds as standard
FREE unlimited Wi-Fi at BT's 5 million UK hotspots
A shorter 12 month contract
Live Premier League action using the BT Mobile Sport app
What Next?
Interested readers can find out more and order the BT 10GB SIM only plan online at the bt.com/btmobile website.