Best Broadband Deals 2021
Searching For A Great BT Mobile Deal? Get 60GB For £15 A Month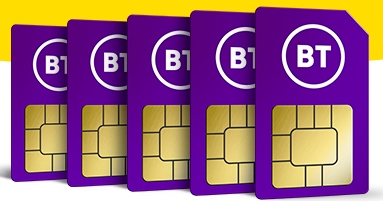 Existing BT Broadband customers can find themselves a great BT Mobile deal when they switch to a BT Mobile SIM only plan at the bt.com/btsmartsavings website by the 24th of June 2021.
BT Broadband customers can enjoy BT's new 60GB SIM Only plan for just £15 a month, whilst also keeping their own phone & number. Looking for a new phone instead? Order an iPhone 11 from just £37 a month at BT.com/smartsavings and receive 12 months FREE Apple TV+. This deal also ends on the 24th of June 2021.
The BT Mobile 60GB SIM Only Plan
Here's what you get with BT's new winning mobile deal which is just £15 a month:
60GB's of data every month to get online
Unlimited anytime call minutes and unlimited texts each month to stay in touch with family and friends
A £50 discount on selected BT Shop mobile phones
Enjoy These Great Benefits Too:
Fast 4G/5G speeds as standard
A monthly spend cap to avoid any nasty bill surprises
Free unlimited internet access available at over 5 million BT Wi-Fi hotspot locations across the UK
Live Premier League matches on BT Sport via the BT Mobile Sport app (worth £10 a month)
What Next?
Interested readers can find out more and order this great BT Mobile deal online at the bt.com/btsmartsavings website.