TalkTalk TV Boosts – 50% Off Sky Sports, Sky Cinema & Kids Boosts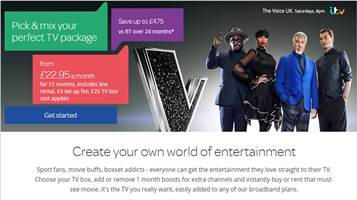 TalkTalk is offering 50% off its Sky Sports, Sky Cinema and Kids TV Boosts when customers add these Boosts online at the talktalk.co.uk/tv website by the 11th of April 2017.
TalkTalk TV Boosts are a great way to add more TV entertainment, including premium channels like Sky Sports, to a TalkTalk TV plan and are available without lengthy contracts or commitments. With the Easter holidays on the horizon and plenty of big sporting events coming up this month and in May, there's no better time to consider adding the TalkTalk Kids Boost or the Sky Sports Boost in particular.
Take A Closer Look At The TalkTalk TV Boosts

There's currently 8 TalkTalk TV Boosts to choose from, with the Kids, Sky Sports and Sky Cinema Boosts now available with 50% off. We've taken a closer look at some of the Boosts below:
1. The TalkTalk TV Starter Boost has 6 popular Sky TV channels to enjoy for £5 a month. The channels are Sky 1, Sky 2, Sky Arts 1, Sky LIVING and Sky Sports News HQ. If you're a TalkTalk Plus TV customer, this Boost is already included as part of your package.
2. The TalkTalk Entertainment Boost is perfect for the whole family and offers award-winning drama and must see TV via the 32 top pay TV entertainment channels. Available for £12 a month, the channels available include the likes of Syfy, History, Fox, Comedy Central, Discovery, Gold, MTV, National Geographic, Sky 1 and Sky Living. There's also on-demand access to TalkTalk FilmClub which has over 20 iconic movies available, plus 5 new movies added each week.
3. The TalkTalk Sky Sports Boost has 6 dedicated Sky Sports channels offering more football than ever before with over 700 live games from across the Premier League, Sky Bet Championship, the SPFL, La Liga and more. There's also live International cricket, rugby, tennis, darts and every Formula 1 race. With plenty of sporting events coming up in April and May, including the Masters Golf, the Indian Premier League cricket and the start of the F1 2017 season, the Sky Sports Boost is great value at just £16 a month with the 50% off.
4. The TalkTalk Kids Boost, has 9 top-rated UK kids channels, plus over 200 episodes to watch on-demand. There's something for kids of all ages with channels like Nicktoons, the Disney Channel, Disney Junior, Nickelodeon, Cartoon Network, Disney XD and Boomerang. With 50% off, the Kids Boost is currently available for just £2.50 a month.
5. The TalkTalk Sky Cinema Boost has over 1,200 on-demand movies to enjoy across 11 dedicated Sky Cinema channels. Available with 50% off at just £7.50 a month, subscribers can look forward to plenty of new premieres in April like Finding Dory, Pete's Dragon, Star Trek Beyond and X-Men Apocalypse.
Not Yet Joined TalkTalk? Feel Like You're Missing Out?

Don't worry! Simply order the TalkTalk TV with Fast Broadband package online at talktalk.co.uk/tv and you'll soon be up and running with TalkTalk TV and be able to add & remove these handy TalkTalk TV Boosts on short 30 day contracts.
What Next?

If you'd like to know more about TalkTalk TV and the TalkTalk TV Boosts, please visit the talktalk.co.uk/tv website where you can also order online.