Switch To BT Mobile & Get More Bang For Your Buck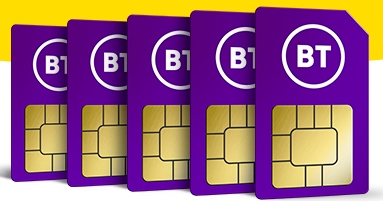 Existing BT Broadband customers can get more bang for their buck when they switch to a BT Mobile SIM only plan at the bt.com/switchformore website by the 28th of September 2017. There's also FREE Amazon or iTunes gift cards up to the value of £100.
Rather than keep topping up their existing plan, BT Broadband customers can generate some impressive savings by paying just £5 a month for BT's 500MB SIM Only plan, whilst also keeping their own phone and number.Considering changing your phone? Order an iPhone 5s from just £17 a month at BT Mobile. This offer also expires on September 28th 2017.
The BT Mobile 500MB SIM Only Plan
Here's what you get with BT's best value 4G SIM Only plan which costs just £5 a month:
500MB's of data every month to get online
400 anytime call minutes and unlimited texts each month to stay in touch with family and friends
Enjoy All This Too:
All BT Mobile SIM Only plans come with fast 4G speeds as standard which are available in more places than O2, Vodafone and Three
Free unlimited internet on the UK's largest Wi-Fi network, which means there's no need to eat up your monthly data allowance when you're on the move (available at over 5 million BT Wi-fi hotspots locations across the UK)
A short 12 month contract
FREE BT Sport Lite content on the BT Mobile app, including 42 live Premier League matches
A useful monthly spend cap that you can set to avoid any nasty bill surprises, thus giving you the control of Pay As You Go
What Next?
Interested readers can find out more on the BT Mobile SIM only plans and order online at the bt.com/switchformore website.