What TV Channels Are Available On TalkTalk TV?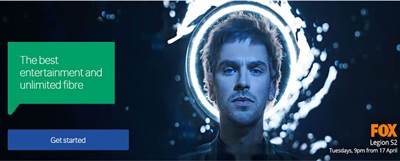 If you're upgrading your existing TalkTalk broadband package to include TV, or ordering a TalkTalk Broadband, Calls & TV package for the first time, it's worth finding out the range of TV channels available on the TalkTalk TV platform.
In this article, we take a look at the TV entertainment on offer with TalkTalk's popular entry level Essentials TV package, which comes with a FREE YouView box worth £149.
The TalkTalk TV Channels Available:
There's no need to miss your favourite TV shows again with the TalkTalk Essentials TV package. You can:
Watch, pause and rewind over 70 Freeview channels, including all the usual BBC & ITV favourites together with the likes of Dave, Sky News, REALLY, Film4, E4 & More4
Catch up on last week's TV with seven day catch up available on your TV using the BBCiPlayer, the ITV Player, 4OD and Demand 5
Enjoy more on demand entertainment by adding extra TV channels (including Sky channels) one month at a time with TalkTalk's great value TV Boosts which cost from just £5 extra a month
Watch More TV Channels With TalkTalk TV Boosts
There's 5 TalkTalk TV Boosts to choose from:
The TV Starter Boost includes 7 Sky TV Entertainment channels, which are Sky 1, Sky 2, Sky Arts 1, Sky LIVING, Sky LIVINGit and Sky Sports News HQ. Users can enjoy some of the most popular entertainment channels from Sky for £5 a month
The TalkTalk Entertainment Boost, from £10 a month, features over 30 TV entertainment channels including the likes of Fox, Comedy Central, Discovery, Gold, MTV, Syfy, National Geographic, Sky 1 and Sky Living
The TalkTalk Sky Sports Boost has 6 dedicated Sky Sports channels; Sky Sports 1, Sky Sports 2, Sky Sports 3, Sky Sports 4, Sky Sports 5 and Sky Sports F1. Watch live and exclusive coverage of the Barclays Premier League, International Cricket plus every Formula 1 race from just £15 a month for the first 3 months (£30p/m thereafter)
The Kids Boost, available from £2.50 a month for 2 months (£5p/m thereafter), has 16 great children's TV channels to choose from. They include the Disney Channel, Nicktoons, Disney Junior, Nickelodeon, Cartoon Network, Disney XD and Boomerang
Now with Sky On Demand, TalkTalk's Sky Movies Boost has all 11 Sky Movies channels, including the exclusive Sky Movies Disney. Costing from just £7.50 a month for the first 3 months (£15p/m thereafter), users can also watch a new blockbuster movie every Friday on Sky Movies Premiere
Watch The Latest Films With TalkTalk Box Office
Available to rent for 48 hours, users can watch the latest blockbuster Hollywood films, many on the same day as the DVD release.
Hundreds of movies are available to watch on demand at a time that suits you with prices start from just £4 per film.
Need to know more about TalkTalk TV? Head on over to the talktalk.co.uk website where you can also order the Essentials TV package online.