What Is Virgin Media VIVID?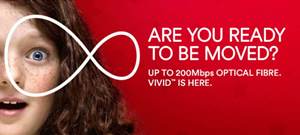 Virgin Media VIVID is the new name for Virgin Media's fastest broadband packages with the top plan offering ultrafast average speeds of 362Mbps.
How Can Virgin Media Supply Average Speeds Of 362Mbps?
They say 'it is the magic in their cables' and they are right. Virgin Media is spending over £3bn upgrading its network with cabling that uses DOCSIS 3 technology. This technology combined with their unique insulated cabling, which has a thicker copper core, means its ultrafast speeds are not reduced over longer distances - unlike the copper phone lines used by most other broadband suppliers.
This winning combination not only means increased speeds, but also greater reliability and delivery of the broadband speeds customers have signed up for.
What Can You Do With Virgin Media VIVID Speeds Averaging 362Mbps?
Downloading a film in 3 minutes or a whole album in 3 seconds becomes a reality with Virgin Media VIVID. Family members can be streaming HD movies online at the same time on multiple devices while others stream gameplay in HD at the same time - all with no interruptions.
How Much Does Virgin Media VIVID Cost?
Expect to pay more for Virgin Media VIVID packages by virtue of their ultrafast speeds and reliability. Prices start from £33 a month for average speeds of 108Mbps and £43 a month for average 362Mbps speeds. Virgin Media phone line rental is included in these prices, together with weekend phone calls to UK landlines and mobiles. Compare their packages further below.
Is Virgin Media VIVID Available Across The UK?
Unfortunately not. The Virgin Media fibre optic network only covers around 50% of UK homes, so you will need to check availability for where you live by using our fibre broadband postcode checker.
What Next?
Already have Virgin Media Broadband? Find out when the new Virgin Media VIVID speeds are coming to your area
Considering Switching to Virgin Media? Find out more on Virgin Media VIVID Broadband here or compare packages below.
Compare Virgin Media Broadband Packages
Provider
Package Details
Average Speed*
Download Limit
Contract Period
Costs
More Info


Average speed*: 54Mb,
Download limit: Unlimited,
£35 setup,
1st year cost £371,
£28*

Virgin Media M50 Fibre Broadband + Weekend Calls To UK Landlines & Mobiles


* For 12 months. Includes Virgin Media phone line rental

54Mb
Unlimited
12 months
Monthly cost £28.00* 1st year cost: £371.00
£35.00 setup
18-Month Price Promise



Ends soon! Find out more >



Now With Intelligent WiFi To Automatically Sort WiFi Issues


Average speed*: 108Mb,
Download limit: Unlimited,
£35 setup,
1st year cost £431,
£33*

Virgin Media M100 Fibre Broadband + Weekend Calls To UK Landlines & Mobiles


* For 12 months. Includes Virgin Media phone line rental

108Mb
Unlimited
12 months
Monthly cost £33.00* 1st year cost: £431.00
£35.00 setup
Includes Weekend Calls



Ends soon! Find out more >



Now With Intelligent WiFi To Automatically Sort WiFi Issues


Average speed*: 54Mb,
Download limit: Unlimited,
£35 setup,
1st year cost £431,
£33* per month

The Big Bundle + Mixit TV: Virgin Media M50 Fibre Broadband + Weekend Calls To UK Landlines & Virgin Mobiles + 100 Digital TV Channels + 5 HD Channels + 7 Day Catch-Up TV + TV, Movies & Music On Demand + 500GB TiVo Box


* For 12 months. Includes Virgin Media phone line rental

54Mb
Unlimited
12 months
Monthly cost £33.00* 1st year cost: £431.00
£35.00 setup
Add Personal Picks Like BT Sport On A One-Month Rolling Contract



Ends soon! Find out more >



Now With Intelligent WiFi To Automatically Sort WiFi Issues


Average speed*: 54Mb,
Download limit: Unlimited,
£35 setup,
1st year cost £479,
£37*

Virgin Media M50 Fibre Broadband


* For 12 months. No Virgin Media phone line rental required

54Mb
Unlimited
12 months
Monthly cost £37.00* 1st year cost: £479.00
£35.00 setup
No Phone Line Rental Required



Ends soon! Find out more >



Now With Intelligent WiFi To Automatically Sort WiFi Issues


Average speed*: 213Mb,
Download limit: Unlimited,
£35 setup,
1st year cost £491,
£38* per month

Virgin Media M200 Fibre Broadband + Weekend Calls To UK Landlines & Virgin Mobiles


* For 12 months. Includes Virgin Media phone line rental

213Mb
Unlimited
12 months
Monthly cost £38.00* 1st year cost: £491.00
£35.00 setup
Includes Weekend Calls



Ends soon! Find out more >



Now With Intelligent WiFi To Automatically Sort WiFi Issues


Average speed*: 362Mb,
Download limit: Unlimited,
£35 setup,
1st year cost £551,
£43* per month

Virgin Media M350 Fibre Broadband + Weekend Calls To UK Landlines & Mobiles


* For 12 months. Includes Virgin Media phone line rental

362Mb
Unlimited
12 months
Monthly cost £43.00* 1st year cost: £551.00
£35.00 setup
Includes Weekend Calls



Ends soon! Find out more >



Now With Intelligent WiFi To Automatically Sort WiFi Issues


Average speed*: 108Mb,
Download limit: Unlimited,
£35 setup,
1st year cost £899,
£72* per month

Bigger Bundle + Maxit TV + Sky Sports: M100 Broadband + Weekend Calls To UK Landlines & Virgin Mobiles + 245 Digital TV Channels Incl. 16 Sky Channels + All Sky Sports Channels + All 4 BT Sport HD Channels, 47 HD Channels + 7 Day Catch-Up TV + TV, Movies & Music On Demand + 500GB TiVo Box


* For 12 months. Includes Virgin Media phone line rental

108Mb
Unlimited
12 months
Monthly cost £72.00* 1st year cost: £899.00
£35.00 setup
Includes All Sky Sports & BT Sport Channels



Ends Soon! Find out more >



Now With Intelligent WiFi To Automatically Sort WiFi Issues