Articles on the topic :
Talk Talk Broadband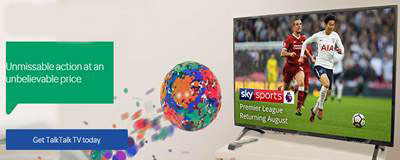 With the new football season on the horizon, TalkTalk has launched an incredible Sky Sports deal, offering customers 8 dedicated Sky Sports channels for just £15 a month for 9 months (saving £171), when they choose TalkTalk Faster Fibre with TV Standard on an 18 month contract. A FREE TalkTalk TV box is included, while the overall bundle price is just £37.50 a month for 9 months, followed by £56.50 a month thereafter. This is currently Britain's lowest price Sky Sports bundle.
The offer is available at talktalk.co.uk/skysports to new customers switching to TalkTalk and also existing TalkTalk Broadband customers upgrading to TalkTalk Fibre, TV & the Sky Sports Boost. The deal ends at midnight on the 16th of August 2018.