Articles on the topic :
T-Mobile Broadband
You can now order T-Mobile Broadband with a free laptop exclusively online and pay just £30 a month.
You'll receive a free Acer TravelMate 5320 laptop (worth £349.99), a free USB modem stick to connect your laptop to the internet, the T-Mobile Broadband Plus package and 200 online texts a month.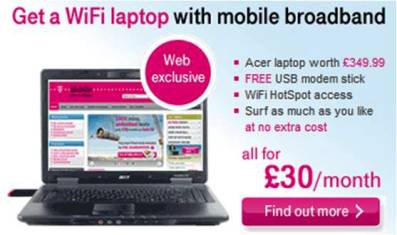 The T-Mobile Broadband Plus package provides 3G broadband speeds up to 4.5Mb, an unlimited monthly download usage allowance (a fair usage policy of 3Gb applies, though there are no run on rates), inclusive Wi-Fi hotspot access and dedicated UK based customer support.
This T-Mobile broadband free laptop package is available on a 24 month contract and can only be ordered exclusively online.
[UPDATE:12/09/2012] T-Mobile has now withdrawn its range of broadband and free laptop deals. Please visit our Mobile Broadband Free Laptop guide to compare packages from 3 and Vodafone.