Huge Growth In Mobile Broadband Dongle Sales
The UK is experiencing huge growth in mobile broadband sales and usage according to a recent report from Ofcom, the industry regulator.
Sales of mobile broadband dongles (USB modems & sticks) that plug into laptops and connect to the Internet have almost doubled from 69,000 to 133,000 a month between February and June 2008.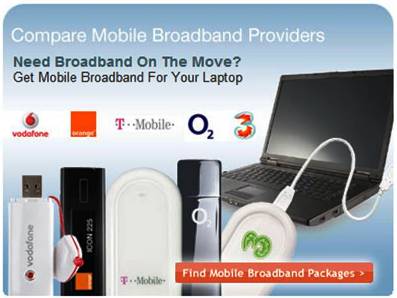 Richard Warmsley, Head of Internet and Entertainment at T-Mobile comments:
"The last year has seen mobile broadband take the Internet industry by storm. We've seen sales of mobile broadband devices soar 360% in the last 12 months and over 1 in 4 of our new customers are asking for mobile broadband."
"New technologies like HSUPA as well as HSDPA mean that you can now get fast upload and download speeds on a laptop wherever you go."
Richard continues, "More and more people have developed a need for being 'always connected' to online services which are important to them, whether it is on a laptop or on their phones."
Mobile broadband packages from the likes of T-Mobile, 3 and Vodafone start from around £10 to £15 a month and include a free USB modem stick dongle and 3G broadband speeds up to 7.2Mbps.
Go to our Mobile Broadband comparison for more information on the packages available.