Bethere.co.uk Broadband £40 Free Gift Promo Codes
New customers ordering any Be Broadband package online at bethere.co.uk can get a free gift up to the value of £40 by using a new Be Broadband promotional code (Be promo code).
To claim the free gift, customers simply need to enter one of the following bethere.co.uk promo codes during the Be Broadband online sign up process:
Enter promo code 'GAME' for £40 of GAME vouchers
Enter promo code 'T3MAG' for a years subscription to T3 magazine
Enter promo code 'CREDIT' for a £40 credit to be applied to your Be Broadband account
Be Broadband packages are available to 75% of UK homes and start from just £13.50 a month for 8Mb download speeds and unlimited usage.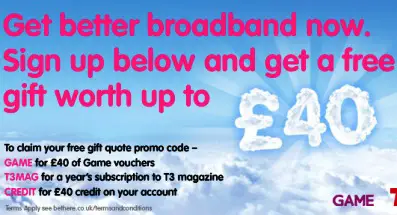 24Mb broadband is also available at just £17.50 a month, with both packages including a free wireless modem and free technical support.
Please go to the official bethere.co.uk/freegift website for more information and to sign up online.
Alternatively, you can read our full review of Be Broadband here.