Best Broadband Deals 2021
Sky+HD Box £49 Offer At Sky.com/HD Upgrade
The impressive Sky+HD box is now available to order online for just £49 at sky.com/hd. This represents a saving of £150 compared to the £199 price quoted when phoning Sky.
If ordered online, customers will also get the Sky HD pack free for one month (usual price is £9.75 a month). The Sky HD pack has 31 HD channels, including 3 Sky Sports HD channels and 12 Sky Movies HD channels.
There's also free set up with the £49 Sky+HD box, as opposed to the £30 and £60 set up costs charged if you order either the Sky+ box or the standard Sky box.
The £49 deal is available to new customers and those existing Sky customers who upgrade their Sky box to a Sky+HD box and recontract for another 12 months.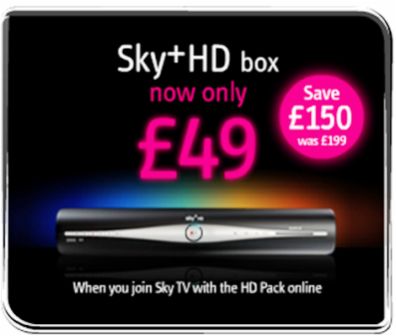 With the Sky+HD box you can experience the wonder of Sky+ (the ability to record, rewind & pause live TV) in high definition for less.
There's up to four times more detail and much more vibrant colour compared to normal TV, plus superb quality Dolby Digital 5.1 surround sound.
There's also the widest range of HD channels in the UK – with 31 channels to watch. You can enjoy everything from movies and sport, to arts, drama and documentaries, all in stunning high definition.
Please go to the sky.com/hd website for more information and to order your Sky+HD box online for just £49.
Free broadband & free offpeak phone calls are also included – with the basic Sky TV package starting from just £16.50 a month.
Alternatively, you can read our full review of Sky Broadband, TV & Phone packages here.