Articles on the topic :
Mobile Broadband For Laptops
As demand in the UK grows for mobile broadband internet access on your laptop, we've put together a straight forward guide to help explain what mobile broadband is all about.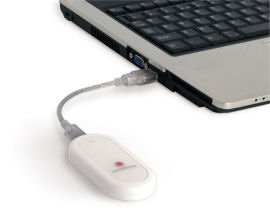 Use our guide to find out how mobile broadband works and also compare the packages on offer from the likes of 3, T-Mobile and Vodafone. Prices start from just £10 a month!
If you're interested in using your laptop to surf the web or check your emails from wherever you want (e.g in the park, on the train) as opposed to fixed line home broadband or the various wireless hotspots available in hotels, cafes and airports, then this mobile broadband guide is for you. Enjoy.
Here's a great deal for everyday internet users who need broadband access on the move on their laptop. T-Mobile are offering a free web 'n' walk USB modem for your laptop when you sign up online to any T-Mobile broadband price plan.
The web 'n' walk USB modem (pictured above) takes just a few minutes to install. You simply plug it into your laptop's USB socket and the software you need will be installed automatically. You can then connect to the internet in seconds and work and play at broadband speeds up to 1.8Mbps.
T-Mobile broadband price plans start from just £20 a month with monthly download limits ranging from 3Gb to 10Gb.
You can read more on this T-Mobile Broadband free USB modem deal here.