Free Webbook Laptop With Orange Mobile Broadband
You can now get a free Elenox Webbook (a mini laptop) worth £250 when you order Orange Mobile Broadband online at the Carphone Warehouse.
The Elenox Webbook is the perfect mini laptop for those who lead a busy life and with Orange Mobile Broadband it enables you to surf the Internet and access your email when you're on the move.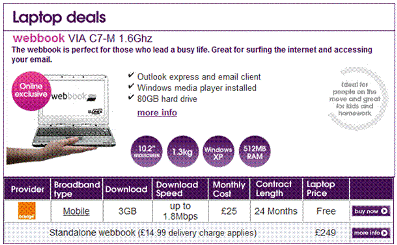 The free Elenox Webbook has an 80Gb hard drive and 512MB of RAM. It comes pre-installed with Windows XP & Windows Media Player and has a 10.2 wide screen.
The Orange mobile broadband package provides speeds up to 1.8Mb with a 3Gb monthly download usage allowance.
This exclusive Orange mobile broadband and free laptop package costs just £25 a month and can only be ordered online at the Carphone Warehouse.
Please read our Mobile Broadband With Free Laptop guide to compare this deal with the other mobile broadband deals currently available.