New BT Home Hub Wireless Router From BT Broadband
It's here! The new BT Home Hub 2.0 wireless router from BT Broadband is now available when you order any BT Total Broadband package.
The stylish black BT Home Hub offers up to twice the wireless range of any other UK broadband provider, giving you a better wireless broadband connection time and time again.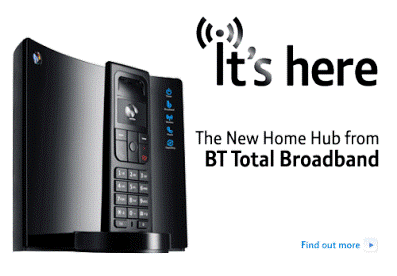 The new BT Home Hub is a next generation wireless router with 'N' technology. It's easy to connect to multiple devices such as PCs, laptops and gaming consoles without the need for wires.
The built-in firewall helps keep you safe from viruses and unwanted intruders and the BT Home Hub even updates itself automatically with new features, including those all-important security updates.
Phone calls over the Internet can be made by plugging in your existing touchtone home phone, while the Home Hub also allows you to get BT Vision.
Please visit our BT Broadband review for information on the range of BT Broadband packages available with the new BT Home Hub. Prices start from £7.95 a month for up to 8Mb broadband download speeds.