Free Setanta Sports On BT Vision With BT Broadband
You can now get free Setanta Sports when you order BT Broadband together with the BT Vision Value Pack.
BT Vision is BT's exciting new digital TV service and its Value Pack includes a free digital TV Freeview recorder worth £199, unlimited viewing of all programmes in BT Vision's TV, TV Replay, Music and Kids' packs, plus free Setanta Sports 1.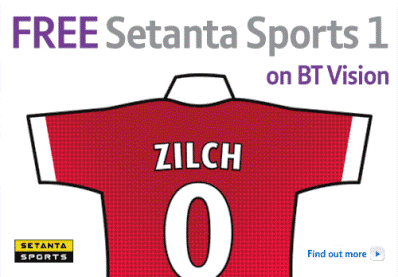 With free Setanta Sports 1 you'll be able to watch 46 live Barclays Premier League football matches this season plus 60 Clydesdale Bank Premier League games. There's live coverage of every round of the FA Cup, crucial home nations World Cup qualifiers and the Community Shield.
There's also a great range of other sports to watch like boxing and the US golf tour.
Please visit our BT Broadband review for more information.